Helping customers; helping the environment score industry honors for PSE&G
Utility recognized for innovation and customer service by ENERGY STAR® and CS Week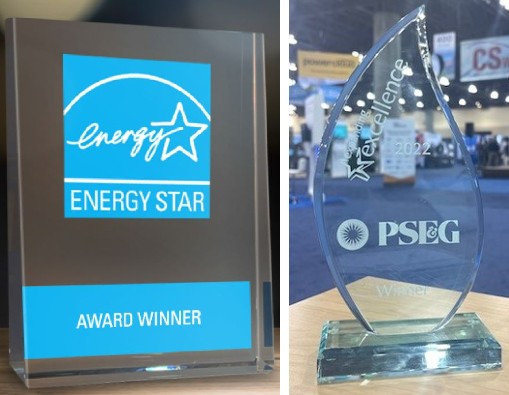 (NEWARK, N.J. – May 9, 2022) —PSE&G's landmark energy efficiency program has received two industry awards recognizing efforts aimed at helping customers use less energy. The utility is a winner of the 2022 ENERGY STAR® "Partner of the Year" award in the Energy Efficiency Program Delivery category. The program has also won the 2022 Expanding Excellence Award in Innovation in People & Process, by CS Week, an annual gathering of utility customer service professionals.
Each year ENERGY STAR®, a U.S. government program that provides information on the efficiency performance of products, honors select utilities and other businesses that have made outstanding contributions to protecting the environment through superior energy achievements.
"We're looking forward to continuing our partnership with ENERGY STAR® as we carry on our mission to work toward a carbon-free economy," said Karen Reif, vice president for PSE&G's Renewables & Energy Solutions group. "We're also driven to continue and build upon the partnership we've established with our customers; providing products and services to help them use energy more efficiently."
"We know it's going to take all of us working together to tackle the climate crisis, and the 2022 ENERGY STAR® award-winning partners are demonstrating what it takes to build a more sustainable future," said EPA Administrator Michael S. Regan in a statement. "These companies are showing once again that taking action in support of a clean energy economy can be good not only for the environment, but also for business and customers."
"Partner of the Year" winners are selected from a network of ENERGY STAR® partners. For a complete list of 2022 winners and more information on the ENERGY STAR® awards program, visit:
https://www.energystar.gov/awardwinners
CS Week Award
CS Week has recognized the PSE&G Marketplace retail site – part of the utility's energy efficiency program – for excellent customer service.
The PSE&G Marketplace is an online store that offers energy-efficient products with instant rebates at the point of sale. In 2021, more than 360,000 rebated products, such as LED lighting and smart thermostats, were purchased by PSE&G customers.
"Many customers want to be more efficient and aren't sure how. It is a special honor for our team to be recognized for their efforts to make it easy and convenient for customers to save energy and money," Reif added. "PSE&G is making significant investments in energy efficiency as part of the PSEG vision to power a future where our customers use less energy, and it's cleaner, safer and delivered more reliably than ever."
PSE&G's $1 billion Energy Efficiency Program
PSE&G's $1 billion energy efficiency program, the largest commitment to energy efficiency ever in New Jersey, is providing environmental benefits and helping reduce customer bills while creating jobs and boosting the state's economy. The program's energy-saving measures, including rebates for energy-efficient appliances and equipment, are available to all residential and business customers.
These awards are the latest industry accolades awarded to the PSE&G program. In 2021, the Alliance to Save Energy honored the utility with its Stars of Energy Efficiency award.
For more information, please visit:
https://psegpoweringprogress.com/energy-efficiency/
###
PSE&G
Public Service Electric & Gas Co. (PSE&G) is New Jersey's oldest and largest gas and electric delivery public utility, serving three-quarters of the state's population. PSE&G is the winner of the ReliabilityOne Award for superior electric system reliability in the Mid-Atlantic region. In 2021, PSE&G was named the most trusted combined gas & electric utility in the East Region, by the Cogent Syndicated Brand Trust Index. PSE&G is a subsidiary of Public Service Enterprise Group Inc. (PSEG) (NYSE:PEG), a diversified energy company. PSEG has been named to the Dow Jones Sustainability Index for North America for 14 consecutive years (www.pseg.com).