More Than Meets the Eye
Flood waters often conceal hazards that are not immediately obvious—and some of them can be deadly. Here's what you need to know.
Most people are already aware that water and electricity don't mix. Rising water can increase your exposure to other kinds of hazards, as well.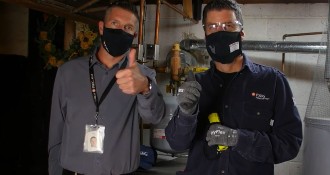 Know the Signs of an Overheating Boiler
An overheating boiler is a dangerous situation that could lead to injury and/or explosion. PSEG crews regularly train with local fire departments to maintain the safety of first responders and residents. Learn what to do if you suspect an overheating boiler.
If you notice water rising outside of your home or you are planning to evacuate your home ...
If your home is flooding ...
If you must leave your home during a flood ...
After flood waters recede ...