PSE&G Reminds Customers: The Best Time to Make an Emergency Plan is Now
National Preparedness Month is a chance for families to think about what to do in a natural disaster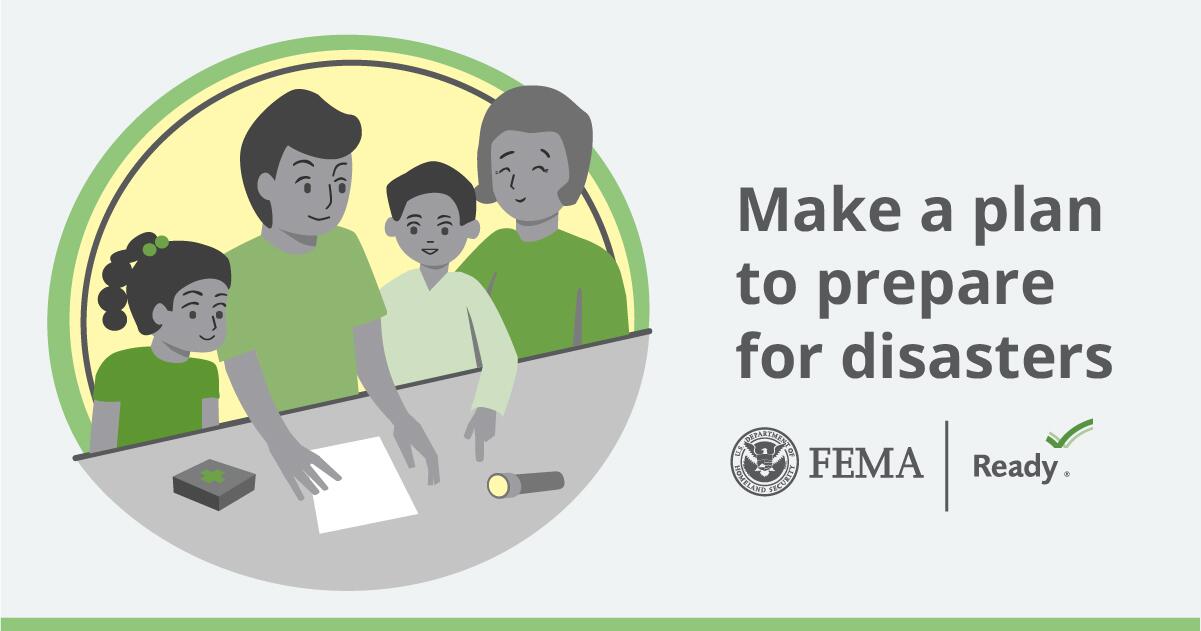 (NEWARK, N.J. – September 06, 2022) While New Jersey hasn't had a major hurricane yet this season, September is National Preparedness Month and PSE&G reminds its customers about the importance of preparing for disasters and emergencies. Emergencies can happen at any time, and preparing ahead of time helps keep everyone safe.
"We encourage our customers to think about this year's National Preparedness Month theme, 'A Lasting Legacy,' because the life you've built is worth protecting," said Paul Toscarelli, senior director, emergency preparedness. "Safety is and has always been our top priority for our customers and employees. To help spread the word about being prepared, PSE&G partners with groups like Sesame Workshop. Taking the time to prepare and having a plan limits the negative impact of an emergency. Prepare and stay aware."
PSE&G's ongoing system improvements and enhancements to the grid help provide excellent service to our customers. PSE&G continuously prepares for extreme weather to maintain reliability, as we help realize our Powering Progress vision.
PSE&G infrastructure investments are delivering benefits for our customers, making our systems more resilient to increasingly severe storms. Tropical Depression Ida brought considerable devastation to New Jersey – however, the impacts would have been much worse without those investments.


Hardening New Jersey's electric and natural gas networks against extreme weather events is a work in progress. We have made significant headway during the past decade, but there is still much work to be done to protect our customers and our energy infrastructure against the impacts of climate change.
Here's how customers can prepare for a severe storm and other emergencies:
Ensure you have a battery-powered radio and fresh batteries.

Check your supply of flashlights, blankets, nonperishable food and bottled water.

Create an emergency communications plan.

Develop an evacuation plan.

Charge your cell phones, tablets and other mobile devices.

Make sure to have cash available. Banks may be closed or inaccessible after a storm.

Fill up your vehicle's fuel tank.

Bring in unsecured objects and furniture from patios and balconies.

Compile a list of emergency phone numbers, including PSE&G Customer Service: 1-800-436-PSEG (7734).
Discuss storm and lightning safety with your family. Visit https://nj.pseg.com/safetyandreliability/stormsafety for safety tips.
Follow PSE&G on Facebook and Twitter for updates before, during and after the storm.
Downed wires should always be considered "live." Stay at least 30 feet away from downed wires, and don't go near the pole or anything touching the line. Immediately contact PSE&G, at 1-800-436-PSEG (7734) via our mobile app or our website, to report downed wires and dial 911 if an immediate hazard exists.

To prevent carbon monoxide poisoning, do not run any gasoline-powered generators in a garage or any other enclosed space.

If you are on life-sustaining medical equipment, please have a backup plan in case of power loss and ensure that you alert PSE&G in advance and notify your local police and fire departments. For more information, visit

www.pseg.com/life

.

Stay connected:
###
PSE&G
Public Service Electric & Gas Co. is New Jersey's oldest and largest gas and electric delivery public utility, serving three-quarters of the state's population,

as well as one of the nation's largest utilities.
PSE&G has won the ReliabilityOne Award for superior electric system reliability in the Mid-Atlantic region for 20 consecutive years. PSE&G received the 2022 ENERGY STAR® "Partner of the Year" award in the Energy Efficiency Program Delivery category, and is a 2021 Customer Champion and Most Trusted Brand as named by Escalent. PSE&G is a subsidiary of Public Service Enterprise Group Inc., (PSEG) (NYSE:PEG), a predominantly regulated infrastructure company focused on a clean energy future and has been named to the Dow Jones Sustainability Index for North America for 14 consecutive years
---
i Amazon, Alexa is a trademark of Amazon.com, Inc. or its affiliates and Google Assistant is a trademark of Google LLC.