NJIT Names PSE&G President & COO Kim Hanemann its 2023 Commencement Speaker
Hanemann to speak on resiliency; receive honorary degree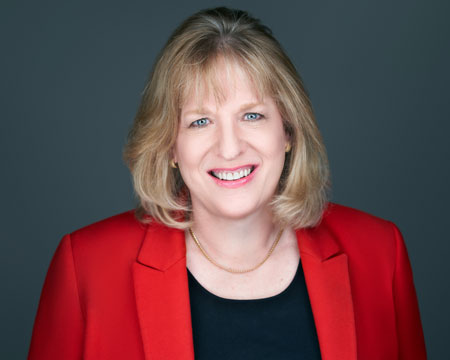 (NEWARK, N.J. – May 8, 2023) PSE&G President & COO Kim Hanemann aims to inspire thousands of young graduates May 19 with a message on being resilient as she serves as the NJIT 2023 undergraduate commencement speaker. Hanemann also will receive an honorary degree, along with retired PSE&G Vice President, Gas Delivery, Peter Cistaro.
"We have a longstanding relationship with NJIT, one of New Jersey's premier institutions, and I'm proud to represent the 400 PSEG employees who are NJIT alums while inspiring this next generation," Hanemann said. "Young people today are faced with an unprecedented amount of change, so being the type of adaptive problem solvers that they learned to be at NJIT will benefit us all, as we tackle global challenges such as climate change and inequity."
The mutually beneficial relationship includes active alumni participation in NJIT campus life, from board service to student mentoring, while many NJIT students serve as PSE&G interns annually. More than 30 employees are currently taking classes at NJIT, while several other employees teach there and PSEG has made nearly 100 NJIT hires within the past year.
The PSEG Foundation and Corporate Social Responsibility have donated over $4 million to the university in recent years, including last year's $800,000 grant to expand Newark residents' access to STEM degrees and careers.
"PSEG is a valued partner that invests in the long-term growth and success of NJIT. PSEG shares our commitment to diversity, equity and inclusion, enabling us to develop, enroll and educate diverse talent from Newark. Moreover, it is a model of the mutually-beneficial partnerships we seek to build with business and industry," said NJIT President Teik Lim.
More information about the ceremony is available on the NJIT website.
###
PSE&G
Public Service Electric & Gas Co. is New Jersey's oldest and largest gas and electric delivery public utility, as well as one of the nation's largest utilities. PSE&G is the 2022 Edison Award recipient from the Edison Electric Institute. PSE&G has won the ReliabilityOne® Award for superior electric system reliability in the Mid-Atlantic region for 21 consecutive years. For the second consecutive year, PSE&G is the recipient of the ENERGY STAR Partner of the Year award in the Energy Efficiency Program Delivery category. In addition, J.D. Power named PSE&G number one in customer satisfaction for both Residential Electric and Natural Gas Service in the East among Large Utilities. PSE&G is a subsidiary of Public Service Enterprise Group Inc., (PSEG) (NYSE:PEG), a predominantly regulated infrastructure company focused on a clean energy future and has been named to the Dow Jones Sustainability Index for North America for 15 consecutive years (www.pseg.com).