PSEG to Send Crews to Assist PG&E in California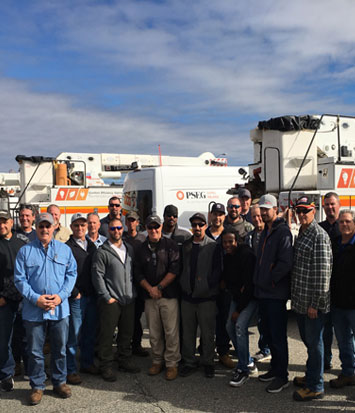 (NEWARK, N.J. – Oct. 28, 2019) Together, Public Service Electric and Gas and PSEG Long Island will send 70 line workers and supervisors to California today to assist PG&E with damage assessment related to wildfires. PSEG personnel are scheduled to fly today to Sacramento where they will receive assignments.

"California residents have been suffering greatly due to these fires, which affect thousands of residents each day," said Dave Daly, PSE&G president and COO and chairman of the board of PSEG Long Island. "Responding to the call from colleagues in need is part of what we do to keep everyone safe. We have a great team and we're happy to lend the assistance that we can."

More than 40 PSE&G personnel from New Jersey and nearly 30 personnel from PSEG Long Island will assist PG&E. Fires around the region prompted PG&E to deenergize circuits causing preventative blackouts. To reenergize the circuits safely, inspections need to be performed to potentially restore power to many of the customers who lost power.
PG&E, through the North Atlantic Mutual Assistant Group requested 1,000 qualified electric workers to inspect and help to restore power, if needed. NAMAG is a mutual aid group, which allows for the sharing of resources such as personnel and equipment during emergencies. The hosting utility reimburses for associated costs. PSE&G and PSEG Long Island employees are scheduled to assist PG&E for about one week.
Employees are leaving as soon as possible and may be available for media interviews via telephone, if coordinated in advance. For interviews with PSE&G call 973.430.7734. For interviews with PSEG Long Island, call the media pager at 516.229.7248 or via mediarelationsLI@pseg.com.


# # #


PSE&G
Public Service Electric and Gas Co. (PSE&G) is New Jersey's oldest and largest gas and electric delivery public utility, serving nearly three-quarters of the state's population. PSE&G is the winner of the ReliabilityOne Award for superior electric system reliability in the Mid-Atlantic region, as well as the 2018 Outstanding Customer Reliability Experience Award. PSE&G is a subsidiary of Public Service Enterprise Group Inc. (PSEG) (NYSE:PEG), a diversified energy company. PSEG has been named to the Dow Jones Sustainability Index for North America for 12 consecutive years (www.pseg.com).

Visit PSEG at:
www.pseg.com
PSEG on Facebook
PSEG on Twitter
PSEG on LinkedIn
PSEG blog, Energize!
PSEG Long Island
PSEG Long Island operates the Long Island Power Authority's transmission and distribution system under a long-term contract. PSEG Long Island is a subsidiary of Public Service Enterprise Group Inc. (PSEG) (NYSE:PEG), a publicly traded diversified energy company.

Visit PSEG Long Island at:
www.psegliny.com
PSEG Long Island on Facebook
PSEG Long Island on Twitter
PSEG Long Island on YouTube
PSEG Long Island on Flickr