PSEG Recognized by Gov. Phil Murphy with 'We Value Our Veterans' Award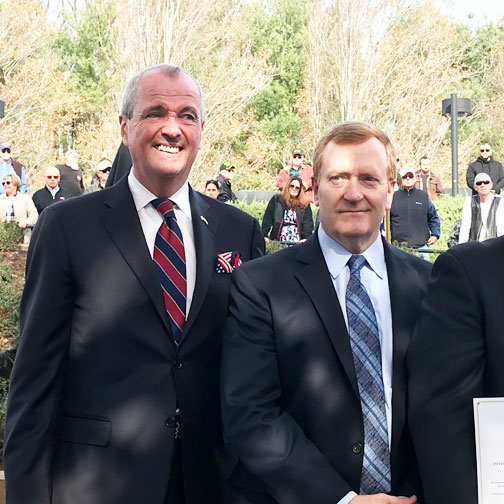 (NEWARK, N.J. – Nov. 14, 2019) On Veterans Day, PSE&G President & COO Dave Daly accepted a "We Value Our Veterans" award, presented by Gov. Phil Murphy, for PSEG's efforts to support veterans and promote a military-friendly environment.

PSEG was recognized during the official New Jersey Veterans Day ceremony, held Monday, Nov. 11, at the New Jersey Vietnam Veterans Memorial in Holmdel.

"Our country's veterans are exceptional leaders and trained professionals who add tremendous value to our workforce," Daly said. "As a company dedicated to service and operational excellence, we're proud of our commitment to our employees who served in the U.S. armed forces and to be recognized as a military-friendly employer."

PSEG was recognized for the recognition and support the company provides for employees who are veterans, as well as active-duty or reservists in the National Guard. The award also recognizes the efforts of PSEG's Veterans Employee Business Resource Group for its work volunteering and working with local veteran's support organizations in the communities we serve.

PSEG was among seven municipalities and four businesses presented with the award, which "recognizes towns and businesses that go above and beyond to honor our veterans," Murphy said.

In addition to PSEG, businesses receiving "We Value Our Veterans" awards included the Earle Companies, Suez North America and the International Union of Painters and Allied Trades.

Municipal honorees included Evesham Township, Ewing Township, Hopewell Township, Hopewell Borough, Pennington Borough, Robbinsville Township, and the city of Trenton.

# # #

PSE&G
Public Service Electric and Gas Co. (PSE&G) is New Jersey's oldest and largest gas and electric delivery public utility, serving nearly three-quarters of the state's population. PSE&G is the winner of the ReliabilityOne Award for superior electric system reliability in the Mid-Atlantic region, as well as the 2018 Outstanding Customer Reliability Experience Award. PSE&G is a subsidiary of Public Service Enterprise Group Inc. (PSEG) (NYSE:PEG), a diversified energy company. PSEG has been named to the Dow Jones Sustainability Index for North America for 12 consecutive years (www.pseg.com).