Arbor Day Foundation Recognizes PSE&G as 2023 Tree Line USA Utility
PSE&G earns the Tree Line USA recognition for its commitment to urban forestry in its communities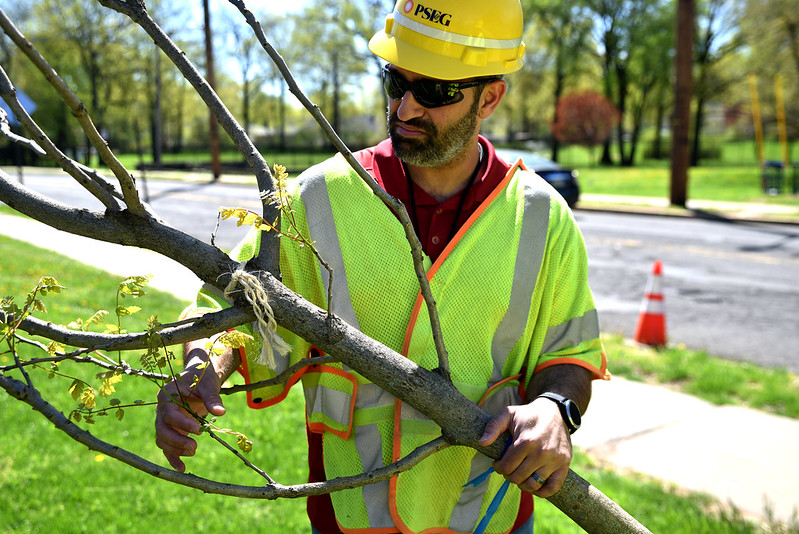 (NEWARK, N.J. – April 28, 2023) PSE&G has been named a 2023 Tree Line USA Utility by the Arbor Day Foundation to recognize its dedication to proper urban forest management in the provider's service area.
Tree Line USA, a partnership between the Arbor Day Foundation and the National Association of State Foresters, recognizes public and private utilities for pursuing best practices that protect and cultivate America's urban tree canopy. In addition, Tree Line USA promotes delivering safe and reliable electricity while maintaining healthy community forests.
"Trees add not only beauty to our communities but also help reduce energy consumption. In 2022 alone, PSE&G planted approximately 675 trees as part of its ongoing vegetation management programs," said Richard Arnold, Jr., manager of PSE&G's Vegetation Management. "We are honored to receive this special recognition as a testament to our commitment to balancing our customers' needs for safe, reliable electricity and the health and viability of trees."
PSE&G's integrated vegetation management program is a critical component to delivering safe, reliable utility service. A properly maintained tree will have a healthy root system, have less structural weakness, and ultimately result in fewer downed lines during storms.
PSE&G's team of certified Utility Arborists and contractors evaluate and manage the 15,000 acres of open space under the utility's transmission right-of-way (ROW). The team also manages the clearance around 14,000 miles of distribution lines that bring power into neighborhoods and municipalities. Following all ISA and ANSI standards, PSE&G minimizes the impact their work has on the urban forest using control methods that may include hand-cutting of vegetation, brush mowing on low-productivity soils, and regular trimming and mowing in residential areas.
"Trees are essential to creating more urban green spaces in communities across the United States," said Dan Lambe, chief executive of the Arbor Day Foundation. "In addition, they provide important benefits to residents, including clean air, clean water, and vital tree shade. Service providers like PSE&G demonstrate how easily trees and utilities can co-exist for the benefit of communities and residents."
The Tree Line USA designation also recognizes utilities who create partnerships with community groups and organizations. PSE&G held a statewide webinar to educate the general public on how identify and plant "utility friendly" trees and created partnerships to enhance habitats for endangered species and pollinators while also supporting scientific research.
Examples of these partnerships include:
PSE&G has worked with the New Jersey Tree Foundation and the Garden Club of New Jersey to enhance the habitat of our transmission ROWs by removing invasive species followed by replacement with pollinator friendly species, as well as planting of hazelnut trees in the border zones of our ROWs that will provide resources to the animals living in the area.
PSE&G has also worked with NJ Audubon Society to enhance habitat for the Golden Winged Warbler, which is an endangered species in the state.
PSE&G has partnered with a professor at Rutgers University to study the effects of our transmission ROW maintenance on the local bee community. All of these items allow us to understand the effect we are having on our urban forests while also providing additional benefits to the local community.
PSE&G achieved the Tree Line USA recognition by meeting five program standards: quality tree care, annual worker training, tree planting and public education, a formal tree-based energy conservation, and a sponsorship of or participation Arbor Day celebration.

More information about Tree Line USA can be found at www.arborday.org/TreeLineUSA

Find out more about how PSE&G maintains the health and beauty of New Jersey's trees while also working to prevent future outages. https://nj.pseg.com/safetyandreliability/reliability/treetrimming
###
PSE&G
Public Service Electric & Gas Co. is New Jersey's oldest and largest gas and electric delivery public utility, as well as one of the nation's largest utilities. PSE&G is the 2022 Edison Award recipient from the Edison Electric Institute. PSE&G has won the ReliabilityOne® Award for superior electric system reliability in the Mid-Atlantic region for 21 consecutive years. For the second consecutive year, PSE&G is the recipient of the ENERGY STAR Partner of the Year award in the Energy Efficiency Program Delivery category. In addition, J.D. Power named PSE&G number one in customer satisfaction for both Residential Electric and Natural Gas Service in the East among Large Utilities. PSE&G is a subsidiary of Public Service Enterprise Group Inc., (PSEG) (NYSE:PEG), a predominantly regulated infrastructure company focused on a clean energy future and has been named to the Dow Jones Sustainability Index for North America for 15 consecutive years (www.pseg.com).


About the Arbor Day Foundation
Founded in 1972, the Arbor Day Foundation has grown to become the largest nonprofit membership organization dedicated to planting trees, with more than one million members, supporters and valued partners. Since 1972, almost 500 million Arbor Day Foundation trees have been planted in neighborhoods, communities, cities and forests throughout the world. Our vision is to lead toward a world where trees are used to solve issues critical to survival.

As one of the world's largest operating conservation foundations, the Arbor Day Foundation, through its members, partners and programs, educates and engages stakeholders and communities across the globe to involve themselves in its mission of planting, nurturing and celebrating trees. More information is available at www.arborday.org