PSE&G Offers Tips to Prepare for Summer and High Heat Days
Friday is National Heat Awareness Day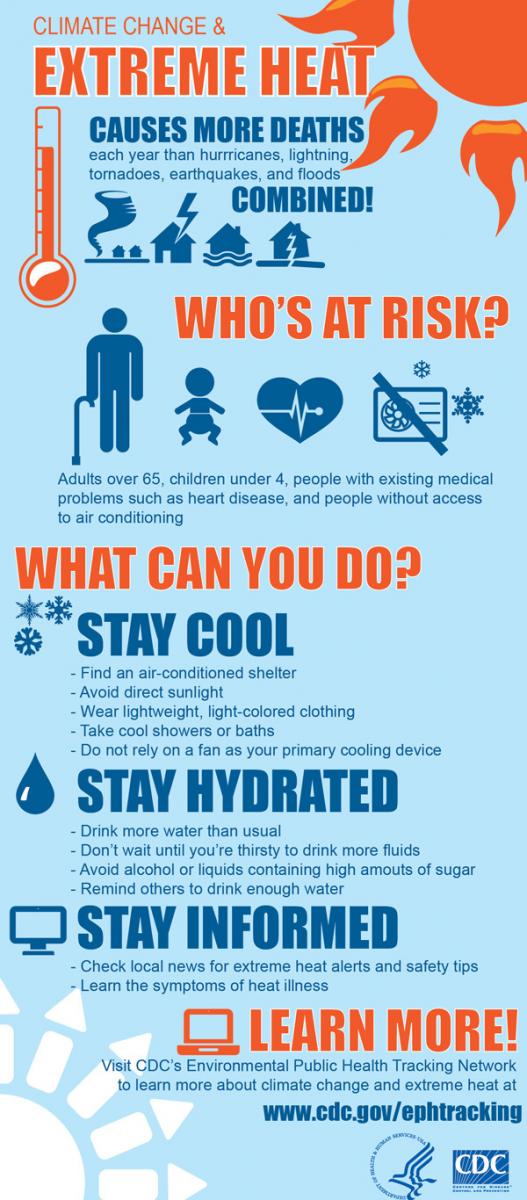 (NEWARK, N.J. – May 24, 2023) National Heat Awareness Day is Friday, May 26, and PSE&G, New Jersey's largest utility, reminds customers to properly protect themselves during the high heat days of summer. PSE&G is prepared to meet the increased electrical demand that high temperatures bring.
"Throughout the year we invest in our infrastructure and we prepare year-round to ensure our electrical system operates at top performance," said Jack Bridges, vice president, Electric Operations for PSE&G. "We're prepared for the demands brought by summer's high heat and hurricane season. We prepare so that our customers can have the best experience possible during extreme conditions. It's also important for families, who spend a lot of summertime outdoors, to learn how to stay protected."
According to the National Weather Service, "on average, extreme heat has killed more people in the last 10 years than any other weather phenomena." The NWS encourages people to remember the acronym HEAT – Hydrate. Educate yourself. Act quickly. Take it easy.
During extreme heat conditions, customers should:
Stay hydrated by drinking plenty of water. Avoid drinks with caffeine or alcohol.

Take precautions such as not wearing dark colors. Know the signs of heat illness.

Never leave children or pets alone in enclosed vehicles. Act quickly if someone exhibits heat illness.

Avoid overexertion during work or exercise, especially between 11 a.m. and 6 p.m.
Customers who rely on electricity to support life-sustaining medical equipment should have a backup plan, register with PSE&G in advance, and also notify your local police and fire departments. Registration does not guarantee priority power restoration.
High electric demand and hurricane season, which starts June 1, can also cause power outages.
PSE&G also reminds customers that hot and sticky weather can lead to more usage and higher electric bills. Customers can save energy and money this summer by following 10 simple tips:
Don't cool an empty house. Set your thermostat higher when you are away.

Seal holes and cracks around doors and windows with caulk or weather-stripping.

Replace air filters monthly. Dirty filters make your air conditioner work harder.

Use a microwave or crockpot instead of the oven. Better yet, grill outdoors.

Operate appliances in the morning or evening when it is cooler outside.

When washing dishes or clothes, run full loads.

Wash laundry in cold water.

Close blinds and draperies facing the sun to keep out the sun's heat.

Don't cool unused rooms. Close the vents and shut the door.

Ceiling fans cool fast and cost less than air conditioning. (In

hot weather, set your ceiling fan to spin quickly, counterclockwise to push air downward toward the floor.)
For more ways to save on summer energy bills, visit https://nj.pseg.com/saveenergyandmoney/energysavingpage/summerenergytips.
For deals on smart thermostats and other energy-saving devices, visit the PSE&G Marketplace at https://marketplace.pseg.com/.
Extreme temperatures and high electric demand can sometimes cause scattered, heat-related outages. Customers can prepare by keeping PSE&G's contact information handy. During extreme heat, PSE&G will have additional personnel available to address outages safely and as quickly as possible.
Stay connected:
Download the

PSE&G mobile app

to report outages and receive information on restoration times, crew locations and more.
Register for MyAlerts to receive text notifications at

pseg.com/outagecenter

.
Report an outage and receive status updates by texting OUT to 4PSEG (47734). You can also report your outage through our app or on our website at

pseg.com/myaccount

.
Follow PSE&G on

PSEG on Facebook

and Twitter

@PSEGdelivers

for updates before, during and after the storm.
Visit PSE&G's Outage Map for the latest in outage info, restoration times and crew locations across New Jersey at

pseg.com/outagecenter

.
To report an outage by phone, call PSE&G at

1-800-436-PSEG (7734)

or use our web chat feature at

pseg.com/myaccount

.

Know what to expect if you lose power.
###
PSE&G
Public Service Electric & Gas Co. is New Jersey's oldest and largest gas and electric delivery public utility, serving three-quarters of the state's population, as well as one of the nation's largest utilities. PSE&G has won the ReliabilityOne Award for superior electric system reliability in the Mid-Atlantic region for 20 consecutive years. PSE&G received the 2022 ENERGY STAR® "Partner of the Year" award in the Energy Efficiency Program Delivery category, and is a 2021 Customer Champion and Most Trusted Brand as named by Escalent. PSE&G is a subsidiary of Public Service Enterprise Group Inc., (PSEG) (NYSE:PEG), a predominantly regulated infrastructure company focused on a clean energy future and has been named to the Dow Jones Sustainability Index for North America for 14 consecutive years (www.pseg.com).