PSEG Celebrates Its Many Generations of PSEG Employees and Families that Helped Power 120 Years of New Jersey's Past, Present and Future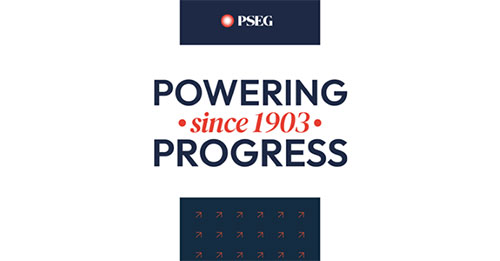 (NEWARK, N.J. – June 21, 2023) – In 2023, PSEG is celebrating 120 years of powering our lives: home, work, family and community. PSEG's long history has embedded the company into the fabric of New Jersey thanks to many generations of hard working, loyal employees who often stay for their entire career, decade after decade.

"120 years is a significant milestone for us, a testament to our current and former employees and the customers, neighbors and shareholders who have put their trust in us," said Ralph LaRossa, PSEG chair, president and CEO. "Public service is not just in our name, it's what we do. Since 1903 we have rolled up our sleeves to deliver safe, affordable and reliable services to homes and businesses across the region. We look forward to doing the same for the next 120 years."

The company began in 1903 as the Public Service Corporation, a combination of 400 gas, electric and trolley companies. The company has been headquartered in Newark since its founding.

PSEG is honored to celebrate this milestone and recognize and give thanks to our employees, some of whose families have worked here for multiple generations, even as long as the company as been established. Here are just a few noteworthy generational families:
Biernacki family of West Deptford

, New Jersey: Zigmund Biernacki, Jr. started his family's multi-generational career with PSE&G in 1956, working for natural gas operations until he retired in 1998 as a machine operator. His son, Zig Biernacki, started in 1980 in Burlington Gas District and will retire at the end of 2023 as a senior distribution supervisor in gas asset management. Zig's wife, Catherine Dandrow, worked at PSEG Nuclear in information technology from 1985 to 1995 and retired as a lead system analyst. Zig and Catherine's children both also work for the utility. Their daughter, Lauren Biernacki, started in 2017 in Trenton Gas Operations and is now a staff engineer in electric and her brother, Paul Biernacki, started in 2022 as a mechanic operator for natural gas operations. Both Lauren and Paul were summer interns at PSE&G during college.

Iurato family of Hackensack, Paterson, Ridgewood and Wayne, New Jersey:

John Iurato started four generations at PSE&G when he worked in gas operations from about 1920 to 1950 in Hackensack Gas District. His nephew, William Iurato, followed suit and also worked in Hackensack Gas from 1937 to 1979. His son, James Iurato, who worked from 1978 to 2018, started in Ridgewood Gas, followed by various gas union and supervisory roles. Allison Iurato, James's daughter, began her career in 2014 and currently works in Business Customer Solutions.

Kayes family of Glen Ridge and East Orange, New Jersey:

Four generations of Kayes started at PSE&G with Anthony Kayes, who worked as a Towerman and Transmission supervisor from 1937 to 1970. His son, William Kayes, started work as a lineman in 1965 and retired as a supervisor in 1998. William's sons, Stephan Kayes, who is retired from the Palisades Division, and Michael Kayes, who is currently the managing director of Transmission and Substation Construction and Maintenance and who began his PSE&G career in 1990. Michael's son, Brian, had the opportunity to intern for the company while working towards his Bachelor's Degree in the summer of 2022.

Keller family of Burlington, Riverside & Mount Laurel, New Jersey:

At the end of the Great Depression, Clarence G. Keller Sr. started four generations of Kellers at PSE&G working in electric underground distribution and then as an equipment operator from 1939 to 1974. His son, Clarence Keller Jr., was a natural gas distribution operations manager from 1964 to 2001. Clarence Keller Jr.'s son, Joseph Keller, began his career at PSE&G in 1990 and is currently a senior electric engineering technician and his son, Jonathan Keller, is an apprentice-engineering technician who joined the company in 2022.

Ledford family of Newark, New Jersey:

Calvin Ledford (Great Grandfather) "unofficially" started the family's connection to PSE&G as a day laborer, digging by hand to fill in and extension of the Morris Canal which is now known as Raymond Blvd in the 1920's into the 30's. His grandson - Calvin Ledford Sr. - met his wife, Elizabeth Ledford (maiden name was Hall), while they were working at PSE&G in the early 1960's. Their son, Calvin Ledford, Jr, started at PSE&G in 1983 as a meter reader and is the current President of the PSEG Foundation & Director Corporate Social Responsibility. Their daughter, Kim Ledford Collier, is currently a service representative in the call center.

Przemelewski family of Newark and Burlington County, New Jersey: Five generations of

Przemelewskis at PSE&G began with Szczepan (Stephan) Przemielewski who emigrated from Poland in 1906. The 1917 Military draft card listed him as working for PSE&G in maintenance at PSE&G's trolley/bus company. His son, Adolph J. Przemelewski, worked as a machinist from 1939 to 1973. Adolph's son Lenard Przemelewski Sr. was a service consultant from 1968 to 2010. Lenard Przemelewski Jr. joined PSE&G in 2000 and is currently a chief relay technician and his daughter, Marissa Przemelewski, joined in 2022 and is currently a customer service representative.

Smith Family of Hamilton, New Jersey:

This family has four generations with a combined 120 years of service working for PSE&G.

First was Jack C. Smith as a fitter service technician from 1924 to 1957. Then his son, John A. Smith ("John, Jack or Smitty"), worked as a mechanic and electric substation supervisor from 1948 to 1990. Then came John's son, John A. Smith Jr., who worked for PSE&G in 1971 and 1979 to 2018 and retired as a principal engineer for natural gas operations. John's daughter, Brielle L. Hamilton, started in 2017 and is currently a senior billing supervisor.

Trevelise family of Union City / Spagnuolo Family of Bellville and Rochelle Park, New Jersey: Four generations of PSE&G employees began with Giovanni (John) Trevelise who, after immigrating from Vasto, Italy, settled in Union City and worked as a welder installing trolley tracks from 1915 to 1950. His granddaughter married into the Spagnuolo family, whose family's PSE&G career began with Fred P. Spagnuolo. Fred's career from 1927 to 1950, began as a trolley car and bus driver and later became a supervisor in the bus division. Fred's son, Robert P. Spagnuolo, was a generating station supervisor from 1960 to 1990, and Robert's daughter, Lori Spagnuolo McElroy, begin her career in 1983 and is currently a senior executive assistant.
A Flickr site with photos of the families throughout the years at PSE&G can be found here.

In addition to multi-generations of PSE&G employees' families who have helped build our expansive electric and natural gas infrusturcture over the past 120 years, PSEG works hard to engage and support the communities where we live and work. Over the last 25 years, the PSEG Foundation has awarded over $125 million in grants through strategic partnerships, various programs including the Neighborhood Partners Program (NPP), and a robust employee-matching gift and volunteer grants program to help address social challenges at the root cause and positively impact the communities we serve.

PSEG also delivers energy to many historic and iconic locations and customers across the state. Read more about those businesses here, "PSEG Powers Campbell, Marcal Paper, New Jersey Transit, The Okonite Company, the Statue of Liberty and 65% of the State's Electric Vehicles."

About PSEG
Public Service Enterprise Group (PSEG) (NYSE: PEG) is a predominantly regulated infrastructure company focused on a clean energy future. Guided by its Powering Progress vision, PSEG aims to power a future where people use less energy, and it's cleaner, safer and delivered more reliably than ever. PSEG's commitment to ESG and sustainability is demonstrated in our net-zero 2030 climate vision and participation in the U.N. Race to Zero, as well as our inclusion on the Dow Jones Sustainability North America Index and the list of America's most JUST Companies. PSEG's businesses include Public Service Electric and Gas Co. (PSE&G), PSEG Power and PSEG Long Island (https://corporate.pseg.com).