PSEG Celebrates 120 Years of Powering New Jersey's Past, Present and Future
PSEG Powers Campbell, Marcal Paper, New Jersey Transit, The Okonite Company, the Statue of Liberty and 65% of the State's Electric Vehicles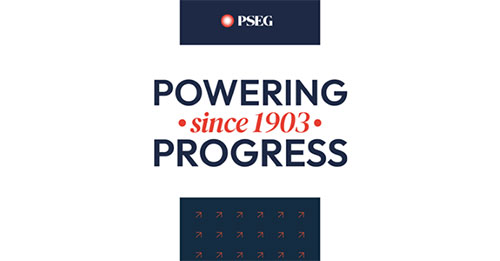 (NEWARK, N.J. – June 21, 2023) In 2023, PSEG is celebrating 120 years of powering our lives – our homes, businesses, families and community – including iconic locations and customers across the state such as Campbell, Marcal Paper, New Jersey Transit, The Okonite Company, the Statue of Liberty and many more.

"120 years is a significant milestone for us, a testament to our current and former employees and the customers, neighbors and shareholders who have put their trust in us," said Ralph LaRossa, PSEG chair, president and CEO. "Public service is not just in our name, it's what we do. Since 1903 we have rolled up our sleeves to deliver safe, affordable and reliable services to homes and businesses across the region. We look forward to doing the same for the next 120 years."

The company began in 1903 as the Public Service Corporation, a combination of 400 gas, electric and trolley companies. The company has been headquartered in Newark since its founding.

In 1928, the company merged its electric and gas utilities into a single company, PSE&G. Public Service Enterprise Group Incorporated was formed in 1985 as a diversified energy company. PSEG has a rich history of keeping the lights on and homes and businesses warm while finding ways to fight climate change. This is part of our Powering Progress vision where people use less energy, it's cleaner, safer and delivered more reliably than ever.

PSEG is honored to celebrate this milestone and recognize the special bond we share with some of our customers who are also icons of the region:
Campbell: Founded in 1869 in Camden, NJ, Campbell is a purpose-driven company with iconic brands such as Campbell's, Prego, Pepperidge Farm Goldfish and Snyder's of Hanover. The company has a heritage of giving back and a longstanding commitment to its communities and the environment.
Marcal Paper: Founded in 1932, Marcal Paper of Elmwood Park, NJ, has had a long history of innovation in New Jersey with the first patent for rolled toilet paper.
NJ TRANSIT: Founded in 1979, NJ TRANSIT today covers a service area of 5,325 square miles, making it the nation's third largest provider of bus, rail and light rail transportation. PSEG has a special relationship with NJ TRANSIT as its original transportation business morphed over time into Transport of New Jersey and ultimately NJ TRANSIT.
The Okonite Company: Founded in 1878, The Okonite Company of Ramsey, NJ is one of the original makers of

insulated electrical

wire and cable in the U.S. with early customers including Samuel F.B. Morse for his telegraph network and Thomas A. Edison for the Pearl Street Generating Station, the nation's first. The Statue of Liberty is also powered by The Okonite Company's submarine cable.
The Statue of Liberty: Dedicated in 1886, the Statue of Liberty, a symbol of hope and freedom, is a national treasure and one of the most recognizable figures in the world.
In addition to our work with the region's leading companies, PSEG works hard to engage and support the communities where we live and work. Over the last 25 years, the PSEG Foundation has awarded over $125 million in grants through strategic partnerships, various programs including the Neighborhood Partners Program (NPP), and a robust employee-matching gift and volunteer grants program to help address social challenges at the root cause and positively impact the communities we serve.

Here's how we aim to power New Jersey into the next 120 years:
Using less energy: In 2018, PSE&G launched the landmark Clean Energy Future program, which is designed to help New Jersey achieve its clean energy and climate goals. Its centerpiece is an energy efficiency program that can help every residential and business customer reduce their energy consumption, shrink their carbon footprint and manage their energy bills.
Using cleaner energy:

PSEG's generating fleet is a top 10 U.S. producer of carbon-free electricity, thanks in large part to the nuclear plants in South Jersey that account for 85% of New Jersey's carbon-free energy.

With reliability and resiliency: Last year, PSE&G became the first large combination utility in the east to receive J.D. Power's highest customer satisfaction ranking for natural gas and electric customers.
And affordability: Keeping everyone in mind, PSEG aims to work together with all stakeholders to ensure we can operate and manage the energy transition of tomorrow while continuing to prioritize reliability and affordability.
PSEG powers our region thanks to the many generations of hard working, loyal employees who often stay for their entire career, decade after decade. Read more about our many generations of dedicated employees here, "PSEG Celebrates Its Many Generations of PSEG Employees and Families that Helped Power 120 Years of New Jersey's Past, Present and Future."
About PSEG
Public Service Enterprise Group (PSEG) (NYSE: PEG) is a predominantly regulated infrastructure company focused on a clean energy future. Guided by its Powering Progress vision, PSEG aims to power a future where people use less energy, and it's cleaner, safer and delivered more reliably than ever. PSEG's commitment to ESG and sustainability is demonstrated in our net-zero 2030 climate vision and participation in the U.N. Race to Zero, as well as our inclusion on the Dow Jones Sustainability North America Index and the list of America's most JUST Companies. PSEG's businesses include Public Service Electric and Gas Co. (PSE&G), PSEG Power and PSEG Long Island (https://corporate.pseg.com).