PSE&G Encourages Customers to Get "Connected to Safety"
May Is National Electrical Safety Month
(NEWARK, N.J. – May 6, 2021) May is National Electrical Safety Month, and Public Service Electric & Gas, New Jersey's largest utility, reminds our customers that they can take simple, cost-free precautions to stay safe around their homes and neighborhoods.

"Safety is always our top priority. We encourage people to enjoy all of the comforts and convenience of electricity while paying attention to and avoiding potential hazards," said Jack Bridges, PSE&G vice president for Electric Operations. "This is the perfect time of year to perform routine checks in homes and businesses to prevent electrical shocks, injuries and fires. Also, taking the time to brush up on emergency safety tips can save lives. At PSE&G, we're here 24/7 for our customers."

Created by the Electrical Safety Foundation International (ESFI), this year's electrical safety month theme is "Connected to Safety," which raises awareness about emerging technologies and how people can better prepare their homes to keep up with their energy demands. The annual effort seeks to help reduce electrical fatalities, injuries and property loss. Among other free resources, ESFI has video playlists including this one on home safety.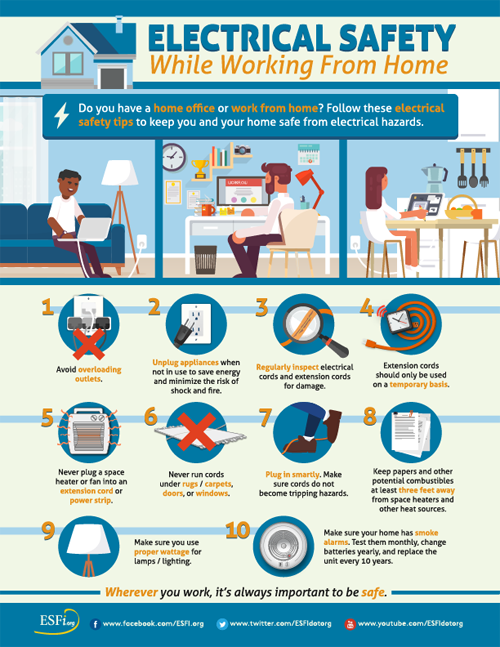 PSE&G offers home electrical safety tips, such as not overloading electrical outlets and checking cords for visible damage. There's also a safety education program for children. With the official start of Hurricane season on June 1 arriving soon, PSE&G also encourages customers to do pre-storm planning and note additional safety tips below.

Customer safety:
Downed wires should always be considered "live." Stay at least 30 feet away from downed power lines, and don't go near the pole or anything touching the line. Immediately call 911 to report downed wires or call PSE&G at 1-800-436-PSEG (7734).
Electric current passes easily through water, so stay away from downed power lines and electrical wires. Don't drive over – and don't stand near – downed power lines.
Downed lines will be hard to see in the snow and can potentially be hidden in standing water. If you encounter large pools of slush or standing water, stop, back up and choose another path.
Be careful not to stand under damaged tree limbs or power lines. Tree limbs can become weakened during a storm but not fall until several hours or days later. The same can be true for damaged power lines and/or poles.
To prevent carbon monoxide poisoning, do not run any gasoline-powered generators in a garage or any other enclosed space.
If you are on life-sustaining medical equipment, alert PSE&G in advance and notify your local police and fire departments. For more information, visit www.pseg.com/life.
If you experience "no heat" or are having trouble with your heating appliance, please make an appointment by calling 1-800-350-PSEG (7734) or schedule online at nj.myaccount.pseg.com.
Stay connected:
###
PSE&G
Public Service Electric & Gas Co. (PSE&G) is New Jersey's oldest and largest gas and electric delivery public utility, serving three-quarters of the state's population. PSE&G is the winner of the ReliabilityOne Award for superior electric system reliability in the Mid-Atlantic region. In 2020, PSE&G was named the most trusted combined gas & electric utility in the East Region, by the Cogent Syndicated Brand Trust Index. PSE&G is a subsidiary of Public Service Enterprise Group Inc. (PSEG) (NYSE:PEG), a diversified energy company. PSEG has been named to the Dow Jones Sustainability Index for North America for 13 consecutive years (www.pseg.com).

[1] Amazon, Alexa is a trademark of Amazon.com, Inc. or its affiliates and Google Assistant is a trademark of Google LLC.