Ready for Strong Winds, Rain Today
PSE&G has physical distancing plans in place to work safely and provide excellent service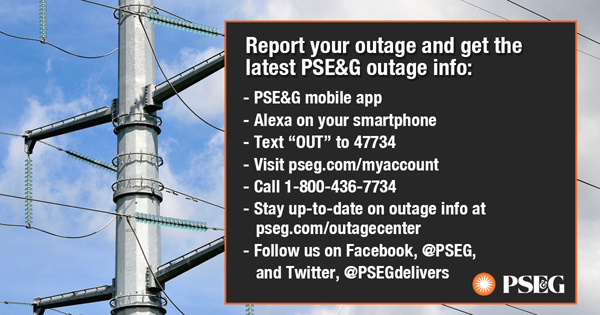 (NEWARK, N.J. – April 30, 2020) Public Service Electric & Gas Co. is prepared for strong wind gusts, rain and possible thunderstorms forecasted for the service area today into Friday. This storm system is forecast to bring wind gusts up to 50 miles per hour, ahead of a cold front.

"We've had other April storms that have created a lot of damage in a short period of time, yet our preparation has helped us respond as safely and quickly as possible," said Jack Bridges, PSE&G's vice president for Electric Operations. "We remind customers that we appreciate their patience as we assess damage and achieve the safe conditions required to make all necessary repairs."

"PSE&G is prepared to maintain safe, reliable service during the COVID-19 outbreak. In response to the outbreak, we have adapted our storm and safety procedures to follow public health guidelines and industry best practices. We thank our customers for their patience as we operate under these unusual circumstances to safely restore power as quickly as possible."

The safety of PSE&G's customers and employees is the company's top priority. We ask that customers remain in their homes while crews are working nearby. If customers must speak with our crews, we ask that they practice responsible "physical distancing" and remain at least 6 feet away to ensure the health of everyone involved. For more information about how PSE&G continues to live up to its commitments during the pandemic, please visit https://nj.pseg.com/safetyandreliability/safetytips/coronavirus.

Customers should be cautious and stay alert to their surroundings during and after storms.
What you can do now:
Stay connected with PSE&G:
Stay away from downed wires:
Other important safety notes:

###

PSE&G
Public Service Electric and Gas Co. (PSE&G) is New Jersey's oldest and largest gas and electric delivery public utility, serving three-quarters of the state's population. PSE&G is the winner of the ReliabilityOne Award for superior electric system reliability. PSE&G is a subsidiary of Public Service Enterprise Group Inc. (PSEG) (NYSE:PEG), a diversified energy company. PSEG has been named to the Dow Jones Sustainability Index for North America for 12 consecutive years.