PSE&G encourages customers to deflate Mylar balloons after use, to prevent fires and power outages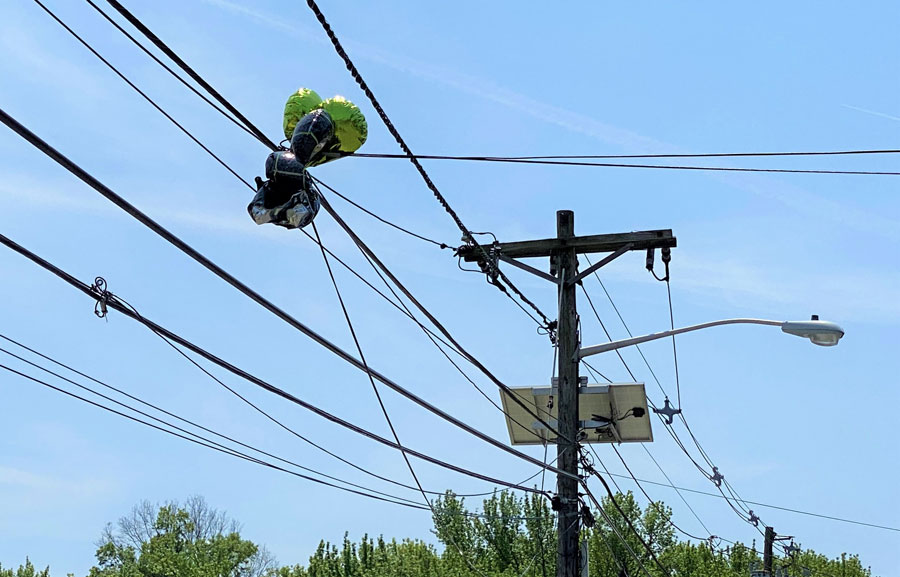 (NEWARK, N.J. – June 9, 2021) Graduations, weddings, Father's Day, religious ceremonies and Independence Day – the next few months have special events often celebrated with Mylar balloons, yet keeping such hazards away from power lines is essential to public safety. Public Service Electric & Gas, New Jersey's largest utility, reminds customers that proper handling and disposal of Mylar balloons prevents them from drifting into power lines and causing power outages.

Earlier this year Mylar balloons caused several noteworthy PSE&G outages including one that caused a momentary power outage for more than 1,400 customers and a 4-hour outage for 87 customers in Palisades during a winter storm in February Another, last month, caused a 39-minute outage for nearly 1,400 people in Paterson.
The metallic coating on Mylar balloons conducts electricity. Because of this, when a Mylar balloon touches a power line or floats into substation equipment it can cause a short circuit. This contact can lead to downed wires, power outages, fires and injuries.
The safety of our customers is always PSE&G's top priority. To reduce the risk of outages and injuries, customers should keep the following safety tips in mind:
NEVER touch a power line. Do not attempt to retrieve a balloon, kite, or other types of toys or debris entangled in an overhead power line or substation. Call PSE&G to report the problem at 1-800-436-7734 so our crews can remove the item safely.
Keep Mylar balloons and other decorations away from overhead power lines and all utility equipment.
Do not fly kites or hold Mylar balloons in the rain, during electrical storms nor while crossing streets.
Keep balloons tethered at all times. Make sure balloons are secured to a weight that is heavy enough to prevent them from floating away.
Always dispose of Mylar balloons properly by safely puncturing the balloon in several places to release the helium that otherwise could cause the balloon to float away.
For more information, visit PSE&G's safety tips.
###
PSE&G
Public Service Electric & Gas Co. (PSE&G) is New Jersey's oldest and largest gas and electric delivery public utility, serving three-quarters of the state's population. PSE&G is the winner of the ReliabilityOne Award for superior electric system reliability in the Mid-Atlantic region. In 2020, PSE&G was named the most trusted combined gas & electric utility in the East Region, by the Cogent Syndicated Brand Trust Index. PSE&G is a subsidiary of Public Service Enterprise Group Inc. (PSEG) (NYSE:PEG), a diversified energy company. PSEG has been named to the Dow Jones Sustainability Index for North America for 13 consecutive years (www.pseg.com).