PSE&G Celebrates 6th Annual Global Recycling Day
Customers Can Trade in Old Appliances and Save Energy and Money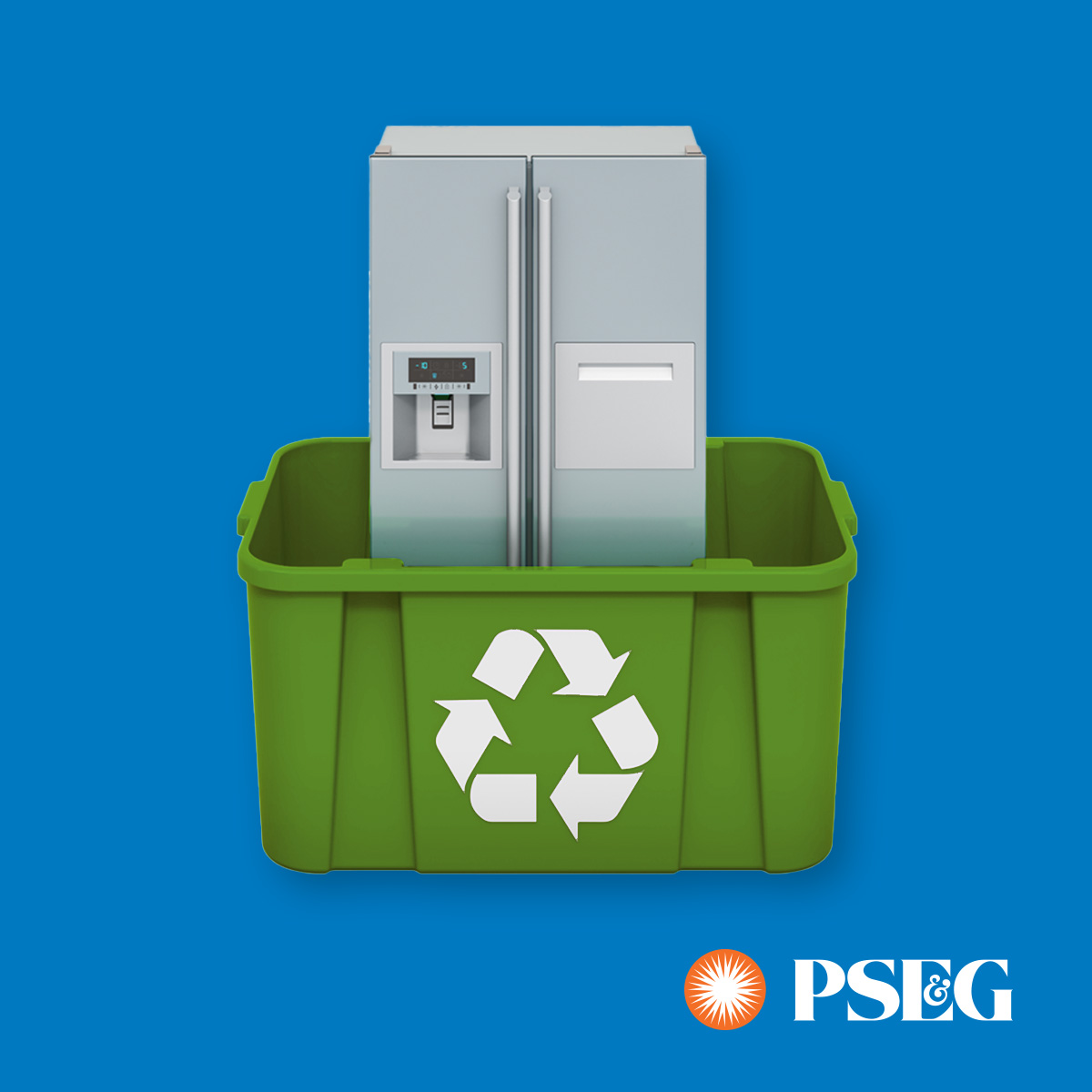 (NEWARK, N.J. – March 17, 2023) —  PSE&G is celebrating the 6th annual
Global Recycling Day
by encouraging customers with older appliances in their homes to participate in Appliance Recycling and Rebates programs. The programs provide both rebates for recycling your old, inefficient appliances, as well as for the purchase of new,
ENERGY STAR®
certified models.
In 2020, more than 9.4 million tons of municipal solid waste was generated in New Jersey, with only about 3.8 million tons recycled, according to the New Jersey Department of Environmental Protection.
The PSE&G Recycling Program offers a $50 rebate for each old, working refrigerator or freezer recycled (limit of two), plus an additional $25 rebate for each room air conditioner or dehumidifier picked up at the same time (limit of two). Customers also receive free pickup and haul-away of their appliances, as well as environmentally responsible recycling and disposal. To participate, you must be a current PSE&G customer receiving residential electric service.
"There's no better time to upgrade your appliances at reduced cost so you can cut back on your energy use," said Susanna Chiu, senior director, Energy Solutions at PSE&G. "Since launching our recycling program almost two years ago, our customers have already recycled more than 16,000 appliances, which is estimated to be equivalent to taking more than 2,000 gasoline-powered cars off the road for an entire year, in terms of the **greenhouse gas emissions avoided."
In addition, the PSE&G Appliance Rebates Program offers rebates on certified ENERGY STAR appliances, including washers and dryers, room air conditioners, refrigerators, heat pumps, and tankless water heaters, to name a few. PSE&G will be adding more qualified appliances to the program soon, so check the website for additional details.
In honor of Global Recycling Day, take advantage of both programs and help the environment—and your wallet, too.
**This data was pulled from Greenhouse Gas Equivalencies calculator which allows you to convert emissions or energy data to the equivalent amount of carbon dioxide (CO2) emissions from using that amount. These estimates are approximate and should not be used for emission inventories or formal carbon emissions analysis.
###
About PSE&G
Public Service Electric & Gas Co. is New Jersey's oldest and largest gas and electric delivery public utility, as well as one of the nation's largest utilities. PSE&G is the 2022 Edison Award recipient from the Edison Electric Institute. PSE&G has won the ReliabilityOne® Award for superior electric system reliability in the Mid-Atlantic region for 21 consecutive years. PSE&G received the 2022 ENERGY STAR® "Partner of the Year" award in the Energy Efficiency Program Delivery category, and J.D. Power named PSE&G number one in customer satisfaction for both Residential Electric and Natural Gas Service in the East among Large Utilities. PSE&G is a subsidiary of Public Service Enterprise Group Inc., (PSEG) (NYSE:PEG), a predominantly regulated infrastructure company focused on a clean energy future and has been named to the Dow Jones Sustainability Index for North America for 15 consecutive years (www.pseg.com).