PSE&G Inspects Power Supply & Equipment to Bolster Reliable Service to Hospitals
Stands Ready to Support New Critical-Care Facilities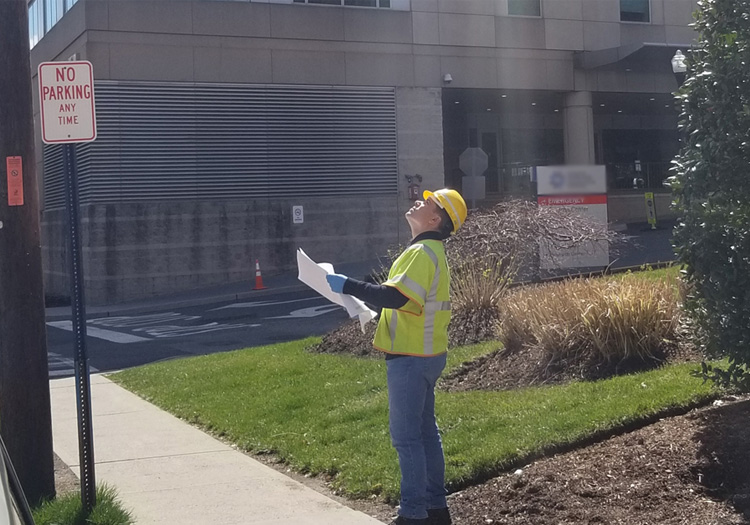 (NEWARK, N.J. – April 1, 2020) Public Service Electric & Gas, New Jersey's largest utility, is helping ensure hospitals have the power they need during the COVID-19 pandemic by increasing proactive inspections and maintenance of equipment that brings life-sustaining power supply to critical healthcare facilities throughout the state. Recently, more than 100 special inspections of circuits that serve hospitals were completed in PSE&G service territory. PSE&G also stands ready to supply power to field hospitals being planned to serve more New Jersey patients.

"Providing reliable power to hospitals and other critical-care facilities in this time of need is of absolute importance to us and we're taking measures to safeguard their service," said Jack Bridges, PSE&G's vice president for Electric Operations. "We're trying to do everything we can to support the doctors, nurses, EMTs and all local heros who are risking their own lives to fight this pandemic. We also know that our customers are depending on us to keep their lights on and gas flowing during this difficult time."

PSE&G remains deeply committed to the health, safety and well-being of our customers, employees and the communities it serves. Customers rely on us to heat their homes and power their lives and businesses, and PSE&G is doing our part to fulfill this commitment. All work is being done according to safety protocols, including social distancing and proper use of personal protective equipment.

During an inspection a crew member physically patrols areas, carefully reviewing power lines, poles, cross-arms and other equipment, looking for potential problems that could cause power outages, such as stuck tree limbs. The crew member ensures problems are resolved, preventing potential outages.

PSE&G has worked nonstop to make its electric infrastructure more resilient. From storm hardening upgrades to enhanced tree maintenance, the company's proactive work allows the system to better withstand extreme weather and other threats. Modernizing the grid also enhances reliability for customers.

During the pandemic, PSE&G also remains available to respond to electric and gas emergencies. (A list of ways for customers to stay connected follows.) As warmer weather moves in, so do storm threats and PSE&G recommends all customers review their emergency plans with the impact of the coronavirus in mind. Storm preparation tips are available via https://nj.pseg.com/safetyandreliability/stormsafety.

Stay connected with PSE&G:
Compile a list of emergency phone numbers; include PSE&G Customer Service at 800-436-PSEG.
Download PSE&G's mobile app to report outages and get status updates.
Go to pseg.com/myaccount to sign up to report outages online and to check restoration progress.
Go to pseg.com/outagecenter to check the Outage Map, which is updated every 15 minutes with PSE&G outage information, and to register for MyAlerts to receive text message notifications.
Report an outage by texting OUT to 47734, or by using Alexa.
"Like" PSEG on Facebook and follow PSE&G on Twitter @PSEGdelivers.
# # #
PSE&G
Public Service Electric and Gas Co. (PSE&G) is New Jersey's oldest and largest gas and electric delivery public utility, serving three-quarters of the state's population. PSE&G is the winner of the ReliabilityOne Award for superior electric system reliability in the Mid-Atlantic region. PSE&G is a subsidiary of Public Service Enterprise Group Inc. (PSEG) (NYSE:PEG), a diversified energy company. PSEG has been named to the Dow Jones Sustainability Index for North America for 12 consecutive years (www.pseg.com).