PSE&G Encourages Customers to Pay Attention to Electric Hazards While Working From Home
May Is National Electrical Safety Month
(NEWARK, N.J. – May 20, 2020) As working from home tends to increase demand for household electricity, Public Service Electric & Gas, New Jersey's largest utility, reminds customers to pay attention to common hazards and unsafe practices that can cause electrocution. May is National Electrical Safety Month.
Safety is always our top priority. We encourage people to enjoy all of the comforts and convenience of electricity while paying attention to and avoiding potential hazards," said Jack Bridges, PSE&G vice president for Electric Operations. "This is the perfect time of year to perform routine checks in homes and businesses to prevent electrical shocks, injuries and fires. Also, taking the time to brush up on emergency safety tips can save lives.
Created by the Electrical Safety Foundation International, this year's electrical safety month theme is "Smart Home," which focuses on lifesaving devices, such as circuit interrupters and surge protectors, that keep a home smart and secure. The annual effort seeks to help reduce electrical fatalities, injuries and property loss. Among other free resources, ESFI created this safety video in conjunction with the month.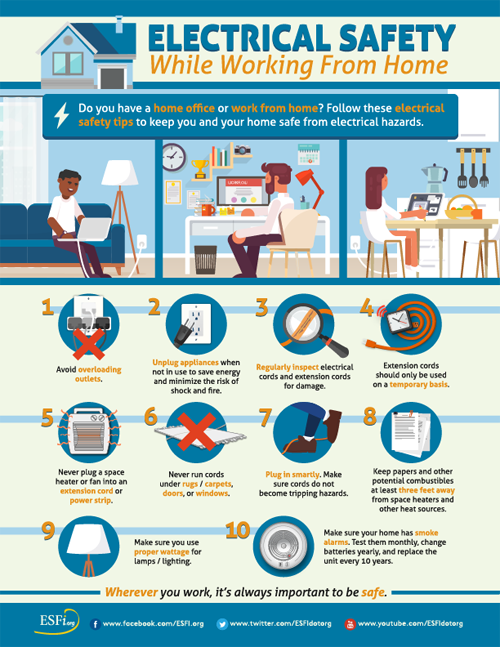 PSE&G offers home electrical safety tips, such as not overloading electrical outlets and checking cords for visible damage. There's also a safety education program for children. With the official start of Hurricane season, June 1, arriving soon, PSE&G also encourages customers to do pre-storm planning and note additional safety tips below.
Stay away from downed wires:
Downed wires should always be considered "live." Stay at least 30 feet away from downed power lines and immediately call PSE&G at 1-800-436-PSEG (7734) or 911 to report downed wires.


Other important safety notes:
To prevent carbon monoxide poisoning, do not run any gasoline-powered generators in a garage or any other enclosed space.
If you are on life-sustaining medical equipment, ensure that you alert PSE&G in advance and notify your local police and fire departments. For more information, visit www.pseg.com/life.
Stay connected with PSE&G:
Compile a list of emergency phone numbers; include PSE&G Customer Service 1-800-436-PSEG.
Go to pseg.com/myaccount to sign up to report outages online and to check restoration progress.
Go to pseg.com/outagecenter to check the "Outage Map," which is updated every 15 minutes with PSE&G outage information, and to register for MyAlerts to receive text notifications.
You can report an outage by texting "OUT" to 4PSEG (47734) or via Alexa.
The new PSE&G mobile app enables customers using Apple or Android devices to securely and easily manage their accounts when and where the customers want to be served.
"Like" PSEG on Facebook and follow PSEG on Twitter @PSEGdelivers.


###

PSE&G
Public Service Electric and Gas Co. (PSE&G) is New Jersey's oldest and largest gas and electric delivery public utility, serving three-quarters of the state's population. PSE&G is the winner of the ReliabilityOne Award for superior electric system reliability. PSE&G is a subsidiary of Public Service Enterprise Group Inc. (PSEG) (NYSE:PEG), a diversified energy company. PSEG has been named to the Dow Jones Sustainability Index for North America for 12 consecutive years.