PSE&G Celebrates World Wildlife Day
Eagles choose nesting platform built and maintained by PSE&G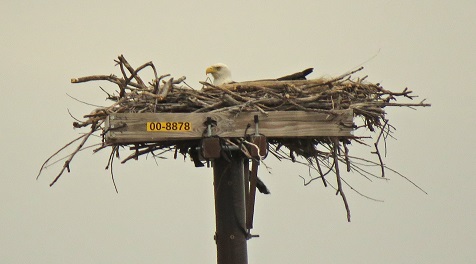 (NEWARK, N.J. – March 2, 2022) — On World Wildlife Day, March 3, PSE&G celebrates the return of the local eagle population to the special nesting platforms PSE&G has built to protect the safety and wellbeing of these endangered birds.
When birds build a nest on electrical equipment it puts the nest in danger of catching fire, which can cause significant damage and outages to customers as well has harm to the birds. In partnership with multiple wildlife and conservation organizations, PSE&G has been preparing for the upcoming breeding season by inspecting known nesting areas, which include nesting platforms PSE&G built on or near transmission towers and poles.
For example, this nesting season a pair of eagles in the Meadowlands have been seen incubating eggs in a nest that sits on a platform installed by PSE&G crews atop a utility pole. The platform was originally installed to accommodate a pair of ospreys that had begun to build their nest in the cross arms of the pole, creating a potential safety hazard.
Eagles begin their nesting season in the winter months, well before the ospreys' return to the area in late March. It will be interesting to see what happens when the he returning osprey pair return to the area in a few weeks.
Both eagles and ospreys have made a remarkable recovery in New Jersey, including in the Meadowlands where there is ample open water for hunting their preferred diet of fish. Due to a lack of trees and prime natural-nesting habitat, these birds have taken to man-made structures – especially utility poles and towers.
This is just one example of the many ways that PSE&G works to protect wildlife while keeping the lights on. You can learn more by reading this Energize! story authored by Ingro Desvousges, one of PSE&G's foresters.
###
PSE&G
Public Service Electric & Gas Co. (PSE&G) is New Jersey's oldest and largest gas and electric delivery public utility, serving three-quarters of the state's population. PSE&G is the winner of the ReliabilityOne Award for superior electric system reliability in the Mid-Atlantic region. In 2020, PSE&G was named the most trusted combined gas & electric utility in the East Region, by the Cogent Syndicated Brand Trust Index. PSE&G is a subsidiary of Public Service Enterprise Group Inc. (PSEG) (NYSE:PEG), a diversified energy company. PSEG has been named to the Dow Jones Sustainability Index for North America for 14 consecutive years (www.pseg.com).