Safety is in Your Hands: Every Dig. Every Time.
PSE&G encourages customers to dig safely; April is National Safe Digging Month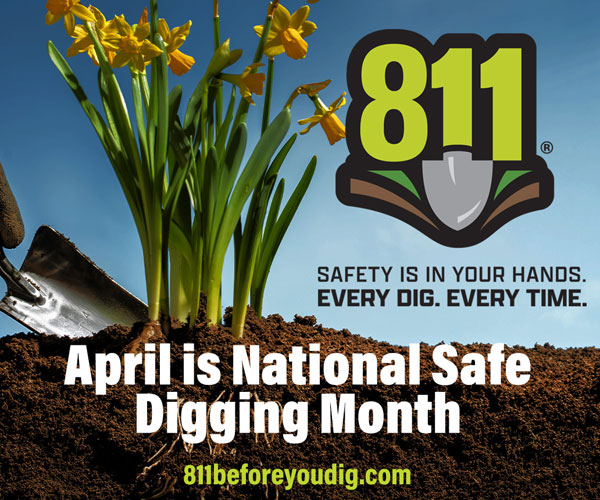 (NEWARK, N.J. – April 4, 2023) – The warm winter and little rain lately may have you planning your next yard project. But before you grab your tools to dig, be safe and be sure to Call 811, the national call-before-you-dig help line.

April is National Safe Digging Month and, according to a recent Common Ground Alliance (CGA) survey, more than 49 million homeowners will put themselves and others at risk this year by not contacting 811 before digging on their property.

"Digging before knowing the location of underground pipes and cables can result in serious injuries, gas leaks, fire, evacuations, utility disruption, costly repairs and environmental or property damage," said Brian Clark, vice president, PSE&G Gas Operations. "Last year, we responded to 835 calls concerning excavation damages, 719 gas and 116 electric, so this is very serious. The best way to stay safe is to call 811 before any digging project, and to use caution around marked facilities. Requesting a markout is a free service."

Planting a tree or shrub is the top home improvement project planned by 74% of CGA survey respondents, followed by building a fence, 28%, building a deck or patio, 24%, and installing a mailbox, 20%. Even simple digging projects can lead to major damage.

PSE&G urges contractors, excavators and customers to call 811 before digging to help prevent natural gas emergencies. When individuals call 811 to request a free, utility markout, regulations specify they must wait three business days for the utility company to properly mark underground lines with paint and flags. The markout is valid for 45 business days. If the work is not completed within that time, a new markout must be requested.

Prevention is key:
Calling 811 before digging significantly reduces the chances of damaging an underground line.
Underground gas and electric lines are everywhere, even on private properties. These facilities can be easily damaged by excavation work.
Whether the job is a major home improvement project or something as simple as a fence or mailbox post, a call to 811 must be placed beforehand to determine where it's safe to dig. It's the law.
Call 811 at least three business days before the commencement of each job to have underground pipes, wires and equipment located. Each facility owner must respond by providing the excavator with a positive confirmation indicating that marks are in place where utility lines are buried or that there are no existing facilities in the area of the proposed work. This service is free of charge.
Be sure to wait until all utilities have responded. Don't dig until lines have been marked or you have received confirmation that the area is clear of facilities.
Property owners must maintain and respect the marks. Always hand dig within 2 feet of marked lines to find the existing facilities before using mechanized equipment.
Consider moving the location of your project if it is near utility line markings.
What to do if you smell gas:

Leave the building as quickly as possible and move 350-feet away from the structure. Take all others with you. If you smell gas outside, move well away from where you suspect the gas is leaking.
Call PSE&G immediately at 1-800-880-PSEG (7734) and call 911. (Do NOT call from inside the building. Wait until you are outside and at a safe distance to call.)
More information about 811 is available at nj1-call.org or on the PSE&G website: https://nj.pseg.com/safetyandreliability/safetytips/callbeforeyoudig. #Call811 #CallBeforeYouDig


PSE&G
Public Service Electric & Gas Co. is New Jersey's oldest and largest gas and electric delivery public utility, as well as one of the nation's largest utilities. PSE&G is the 2022 Edison Award recipient from the Edison Electric Institute. PSE&G has won the ReliabilityOne® Award for superior electric system reliability in the Mid-Atlantic region for 21 consecutive years. PSE&G received the 2022 ENERGY STAR® "Partner of the Year" award in the Energy Efficiency Program Delivery category, and J.D. Power named PSE&G number one in customer satisfaction for both Residential Electric and Natural Gas Service in the East among Large Utilities. PSE&G is a subsidiary of Public Service Enterprise Group Inc., (PSEG) (NYSE:PEG), a predominantly regulated infrastructure company focused on a clean energy future and has been named to the Dow Jones Sustainability Index for North America for 15 consecutive years (www.pseg.com).