Don't Let Drones, Kites or Metallic Foil Balloons Spoil the Party
PSE&G urges those celebrating outdoors to secure decorations and avoid power lines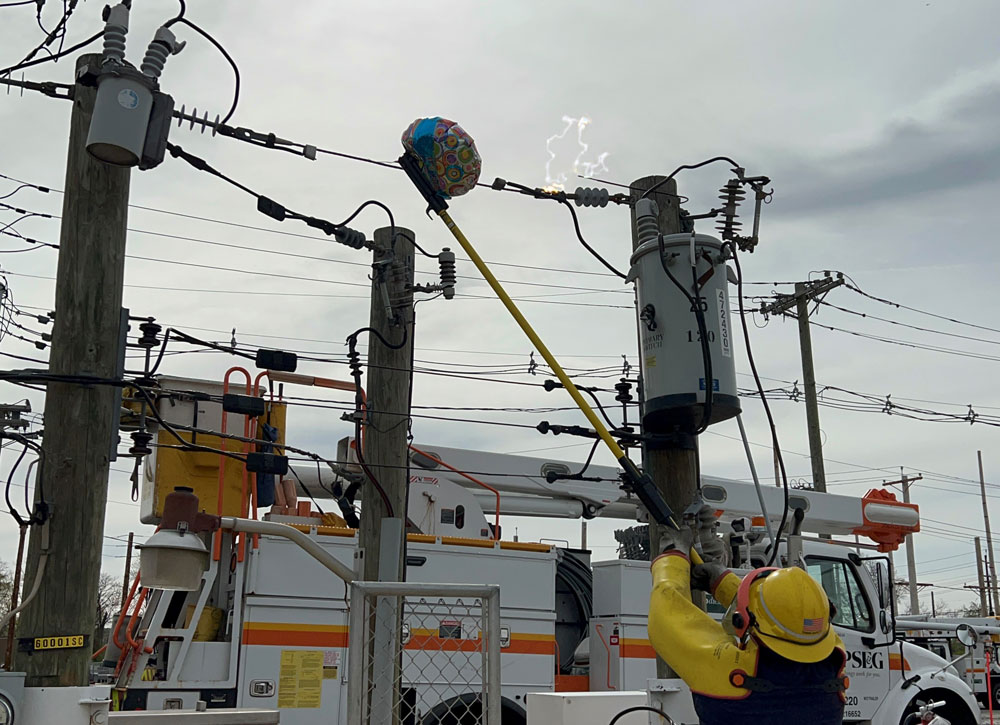 (NEWARK, N.J. – June 12, 2023) Between its beautiful weather and celebrations including graduations, Father's Day, Juneteenth and weddings, June is the time of year when outdoor spaces get crowded with drones, kites and metallic foil or Mylar balloons. Metallic balloons, kites and drones may seem harmless, but flying toys may quickly go from fun to deadly if they become entangled in power lines. PSE&G reminds customers that any of these objects can become entangled in overhead electric equipment and cause a host of problems.

In fact, the average number of reports of Mylar balloons coming into contact with our electric equipment nearly doubles in the month of June.

Metal is an especially effective conductor of electricity, and that includes the metallic coating on Mylar (or foil) balloons. When a Mylar balloon comes in contact with a power line, it can cause a short circuit. Mylar balloons can also stay inflated for two weeks or more. When a Mylar balloon touches a power line or floats into substation equipment it can cause a short circuit. This contact can lead to downed wires, power outages, fires and injuries. Balloons also can harm wildlife when they accidentally ingest popped balloon fragments or become entangled in balloon string.

"While flying drones and kites can be fun and Mylar balloons are festive, if they come into contact with a power line or other electrical equipment, that could lead to power outages, fire and, possibly, injuries," said Jack Bridges, PSE&G vice president of Electric Operations. "We want customers to know the risks and take steps to ensure their recreational activities and celebrations are a success."

If your kite, balloon or drone has flown into some utility lines: Do not try to dislodge any object that is stuck in a power line. Extending poles or sticks of any kind toward a power line can expose you and others to electrocution hazards.
If a kite, balloon or drone gets caught in a power line, call PSE&G immediately at 1-800-436-PSEG (7734).
The safety of our customers is always PSE&G's top priority. To reduce the risk of outages and injuries, customers should keep the following safety tips to "fly" safely:
Always follow all applicable laws and regulations to include Federal Aviation Administration requirements
Never try to remove anything caught in power lines or in electric substations.
Never fly kites in the rain or during electrical storms.
Never cross a road or street while flying a kite or holding a balloon.
Kites, Mylar balloons and drones should be kept away from overhead power lines and all utility equipment.
Make sure balloons are secured to a weight that is heavy enough to prevent them from floating away.
Always properly dispose of Mylar balloons safely by puncturing the balloon in several places to release the helium and prevent the balloon from flying away.
Drones should be kept at least 200 feet from power lines, substations, etc., so you have time to maneuver the remote controlled aircraft away from electrical equipment.
For more information, visit pseg.com/safety.
###
PSE&G
Public Service Electric & Gas Co. is New Jersey's oldest and largest gas and electric delivery public utility, as well as one of the nation's largest utilities. PSE&G is the 2022 Edison Award recipient from the Edison Electric Institute. PSE&G has won the ReliabilityOne® Award for superior electric system reliability in the Mid-Atlantic region for 21 consecutive years. For the second consecutive year, PSE&G is the recipient of the ENERGY STAR Partner of the Year award in the Energy Efficiency Program Delivery category. In addition, J.D. Power named PSE&G number one in customer satisfaction for both Residential Electric and Natural Gas Service in the East among Large Utilities. PSE&G is a subsidiary of Public Service Enterprise Group Inc., (PSEG) (NYSE:PEG), a predominantly regulated infrastructure company focused on a clean energy future and has been named to the Dow Jones Sustainability Index for North America for 15 consecutive years (www.pseg.com).