PSE&G Gains Approval to Continue Modernizing Its Gas System
Upgrading pipelines enhances safety and reduces methane emissions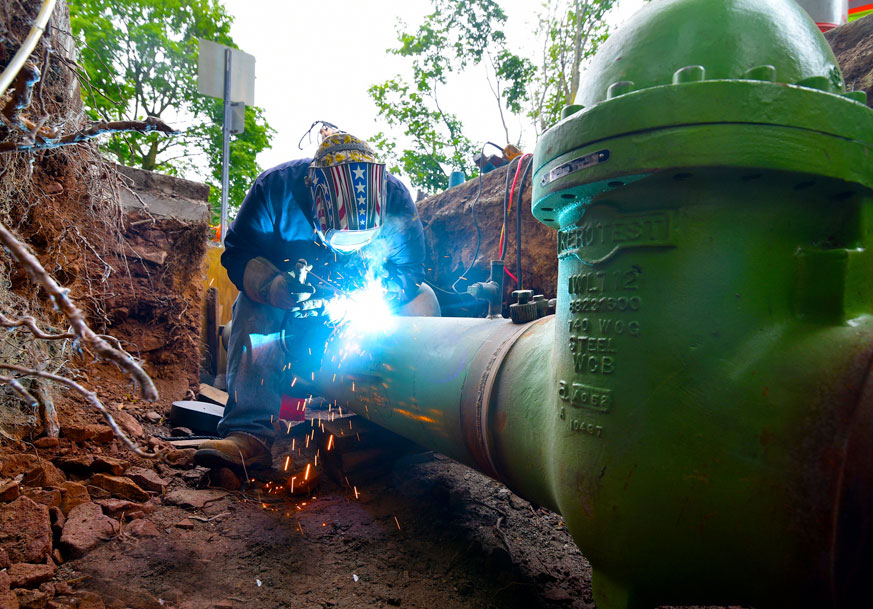 (NEWARK, N.J. – Oct. 11, 2023) The New Jersey Board of Public Utilities today approved a settlement that will enable PSE&G to continue modernizing aging natural gas pipes in 2024 through 2025, enhancing safety and reliability and helping New Jersey meet its clean energy goals. With this extension of the second phase of PSE&G's Gas System Modernization Program (GSMP), the state's largest utility expects to invest $902 million over two years, maintaining hundreds of well-paying jobs and contributing to New Jersey's economy.

The extension allows PSE&G to continue to update its existing gas distribution system to improve reliability and reduce greenhouse gas emissions by approximately 54,000 metric tons CO2e, by replacing at least 400 miles of aged pipes with modern ones. Although nearly 1,800 miles of cast iron and unprotected steel mains have been replaced in recent years, PSE&G remains the nation's utility with the largest number of aging cast iron pipes, much of which is 70 to 100 years old.

"Continuing this work that reduces methane emissions and enhances the reliability of our gas system is a critical step to realizing our Powering Progress vision for customers," said Kim Hanemann, president and chief operating officer, PSE&G. "Natural gas has been the most affordable heating option for millions of New Jersey customers for years. We're pleased to continue our balanced approach to decarbonization while meeting today's energy demand."

The benefits of GSMP include:
Prioritizing and replacing pipelines most prone to leaks, including many in municipalities that have a significant number of overburdened communities;
Maintaining the infrastructure through upgraded equipment, such as modern regulators and the installation of excess flow valves, with the aim of enhancing safety;
Upgrading to higher pressure during replacement enabling customer use of higher efficiency and more environmentally-friendly appliances;
Immediate reduction of leaks by installation of new pipes that can also deliver emerging lower-carbon alternative fuels;
Ensuring our customers' power sources remain affordable and diversified; and
Realizing the benefits of maintaining jobs and vendor relationships through the continuity of the program.
In 2014, PSE&G began to accelerate the updating of its gas system by replacing aged pipes with state-of-the-art gas lines. We are about a third done, having replaced 1,450 miles of gas lines. We have also reduced methane emissions by approximately 300,000 metric tons CO2e from 2011 to 2022 – the equivalent of taking 65,000 cars off the road. The second phase of GSMP was completed earlier this year and reduced PSE&G's gas system methane emissions by approximately 22% from 2018 levels.

The updated lines are also more reliable. When Tropical Storm Ida caused widespread flooding in September 2021, 90,000 gas customers were spared shutoffs due to our modernizing efforts.

PSE&G residential gas bills are now approximately 35 percent lower than in 2008, including February 1, March 1 and October 1 gas supply price reductions reflecting lower natural gas supply costs. The extension is forecasted to increase monthly average gas bills for the typical residential gas customer about 3.8% percent or $3.50 per month.

As part of this settlement, PSE&G also agreed to defer action on its third phase of GSMP, with the parties to that filing to reconvene on it by no later than January 31, 2025. Work covered under the third phase, if approved, would be expected to commence in January 2026.


PSE&G
Public Service Electric & Gas Co. is New Jersey's oldest and largest gas and electric delivery public utility, as well as one of the nation's largest utilities. PSE&G is the 2022 Edison Award recipient from the Edison Electric Institute. PSE&G has won the ReliabilityOne® Award for superior electric system reliability in the Mid-Atlantic region for 21 consecutive years. For the second consecutive year, PSE&G is the recipient of the ENERGY STAR Partner of the Year award in the Energy Efficiency Program Delivery category. In addition, J.D. Power named PSE&G number one in customer satisfaction for both Residential Electric and Natural Gas Service in the East among Large Utilities.


FORWARD-LOOKING STATEMENTS
Certain of the matters discussed in this communication about our and our subsidiaries' future performance, including, without limitation, future revenues, earnings, strategies, prospects, consequences and all other statements that are not purely historical constitute "forward-looking statements" within the meaning of the Private Securities Litigation Reform Act of 1995. Such forward-looking statements are subject to risks and uncertainties, which could cause actual results to differ materially from those anticipated. Such statements are based on management's beliefs as well as assumptions made by and information currently available to management. When used herein, the words "anticipate," "intend," "estimate," "believe," "expect," "plan," "should," "hypothetical," "potential," "forecast," "project," variations of such words and similar expressions are intended to identify forward-looking statements. Factors that may cause actual results to differ are often presented with the forward-looking statements themselves. Other factors that could cause actual results to differ materially from those contemplated in any forward-looking statements made by us herein are discussed in filings we make with the United States Securities and Exchange Commission (SEC), including our Annual Report on Form 10-K and subsequent reports on Form 10-Q and Form 8-K. These factors include, but are not limited to:
any inability to successfully develop, obtain regulatory approval for, or construct transmission and distribution, and our nuclear generation projects;
the physical, financial and transition risks related to climate change, including risks relating to potentially increased legislative and regulatory burdens, changing customer preferences and lawsuits;
any equipment failures, accidents, critical operating technology or business system failures, severe weather events, acts of war, terrorism or other acts of violence, sabotage, physical attacks or security breaches, cyberattacks or other incidents that may impact our ability to provide safe and reliable service to our customers;
any inability to recover the carrying amount of our long-lived assets;
disruptions or cost increases in our supply chain, including labor shortages;
any inability to maintain sufficient liquidity or access sufficient capital on commercially reasonable terms;
the impact of cybersecurity attacks or intrusions or other disruptions to our information technology, operational or other systems;
a material shift away from natural gas toward increased electrification and a reduction in the use of natural gas;
failure to attract and retain a qualified workforce;
inflation, including increases in the costs of equipment, materials, fuel and labor;
the impact of our covenants in our debt instruments and credit agreements on our business;
adverse performance of our defined benefit plan trust funds and Nuclear Decommissioning Trust Fund and increases in funding requirements and pension costs;
fluctuations in, or third party default risk in wholesale power and natural gas markets, including the potential impacts on the economic viability of our generation units;
our ability to obtain adequate nuclear fuel supply;
changes in technology related to energy generation, distribution and consumption and changes in customer usage patterns;
third-party credit risk relating to and purchase of nuclear fuel;
any inability to meet our commitments under forward sale obligations and Regional Transmission Organization rules;
reliance on transmission facilities to maintain adequate transmission capacity for our nuclear generation fleet;
the impact of changes in state and federal legislation and regulations on our business, including PSE&G's ability to recover costs and earn returns on authorized investments;
PSE&G's proposed investment programs may not be fully approved by regulators and its capital investment may be lower than planned;
our ability to advocate for and our receipt of appropriate regulatory guidance to ensure long-term support for our nuclear fleet;
adverse changes in and non-compliance with energy industry laws, policies, regulations and standards, including market structures and transmission planning and transmission returns;
risks associated with our ownership and operation of nuclear facilities, including increased nuclear fuel storage costs, regulatory risks, such as compliance with the Atomic Energy Act and trade control, environmental and other regulations, as well as financial, environmental and health and safety risks;
changes in federal and state environmental laws and regulations and enforcement;
delays in receipt of, or an inability to receive, necessary licenses and permits and siting approvals; and
changes in tax laws and regulations.


All of the forward-looking statements made in this communication are qualified by these cautionary statements and we cannot assure you that the results or developments anticipated by management will be realized or even if realized, will have the expected consequences to, or effects on, us or our business, prospects, financial condition, results of operations or cash flows. Readers are cautioned not to place undue reliance on these forward-looking statements in making any investment decision. Forward-looking statements made in this communication apply only as of the date of this communication. While we may elect to update forward-looking statements from time to time, we specifically disclaim any obligation to do so, even in light of new information or future events, unless otherwise required by applicable securities laws.

The forward-looking statements contained in this communication are intended to qualify for the safe harbor provisions of Section 27A of the Securities Act of 1933, as amended, and Section 21E of the Securities Exchange Act of 1934, as amended.