PSE&G, Teaneck First Responders Conduct Gas Emergency Response Exercise
Call 811 before you dig to prevent gas emergencies; Learn more about gas safety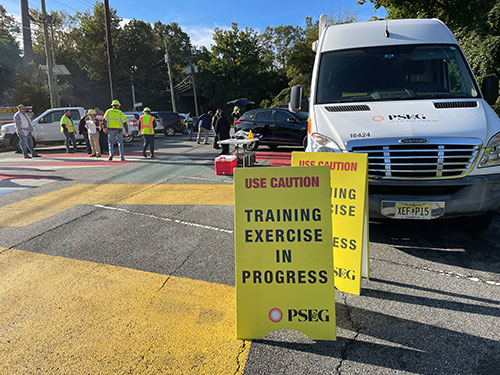 (TEANECK, N.J. – Oct. 17, 2023) PSE&G is committed to maintaining a safe gas distribution system. As part of our commitment, the utility today partnered with first responders from Teaneck in a safety exercise that simulated a gas emergency.

The two-hour exercise allowed PSE&G and local safety professionals to practice keeping the public safe in the event of a damaged underground gas line. The exercise, near the Votee Park Field House in Teaneck, also provided the opportunity to test incident command and evacuation procedures.

"Keeping our communities and employees safe is our top priority," said Brian Clark, PSE&G's vice president, Gas Operations. "These exercises allow us to improve communication and coordination so that, when we have real emergencies, we respond effectively to protect lives."

Clark continued, "Today marked the first time since the pandemic that we were able to conduct a full-scale exercise, and I can't emphasize enough how valuable this hands-on training is. Our customers trust that we're keeping our gas systems safe and secure, and these partnerships help prepare us for emergencies."

Township Manager Dean B. Kazinci said: "The safety of all Teaneck residents is my top priority, and coordinating multiagency efforts is crucial for an effective and efficient response during emergencies. The Township continues to train our emergency services personnel to be proactive when critical situations, such as gas emergencies, threaten our municipality.

"Today's drill was truly a collaborative effort between the Township of Teaneck and PSE&G to ensure that our first responders – and the community – are aware of the potential dangers, and properly trained on how to handle a crisis. Today's drill will allow first responders to improve their response time and protocols for the purpose of making Teaneck a safe community. I would like to commend PSE&G for spearheading this drill and for their continued cooperation with my management team."

Teaneck Fire Chief Josepah A. Berchtold added, "We cannot afford to be reactive in critical situations such as these; proactive planning is absolutely the best way to be prepared. I commend PSE&G for taking steps to ensure that our first responders and community are aware of the potential dangers, and are trained on how to handle a potential crisis."

In 2022, PSE&G responded to 835 excavating damages (719 gas, 116 electric). The utility responds to 99.9 percent of gas emergency calls within one hour. Many of these leaks are avoidable with a simple call to 811 to request a free markout of underground pipes and cables before digging. Digging without knowledge of the location of underground utilities can result in: serious injuries, service disruptions and costly repairs.

Protocols for responding to a gas leak are different from responding to a fire. For example, the evacuation distance is further for a gas emergency, turning off power may not be possible, and automatic generators or solar panels can be potential sources of ignition.

Exercise participants and observers included representatives from: PSE&G, Teaneck Fire Department, Teaneck Police Department, Teaneck OEM, Teaneck Volunteer Ambulance Corps, Township of Teaneck Manager's Office, Teaneck Town Council members, New Jersey Natural Gas, South Jersey Industries, New Jersey Division of Fire Safety, and New Jersey Board of Public Utilities.

This event marked PSE&G's first in-person full scale gas safety exercise since 2019, with two more planned for this year. These safety exercises and training initiatives are part of ongoing efforts to educate community members within PSE&G's service area about emergency preparedness. Also, October is National Fire Prevention Safety Month.

Earlier this year in Bergen County, we conducted gas and electric safety training sessions for approximately 70 Teaneck fire personnel, and additional sessions for close to 90 Englewood, Oakland and Wycoff fire personnel. We also educate the public at various events across the state throughout the year.

Prevention is key:
Call 811 at least three and no more than 10 business days before each job to have underground pipes, conduits, wires and cables located and marked. Markouts remain valid for 45 business days.
Before work begins by excavators, contractors or customers, confirm that a call to 811 has been made and the markout was completed. By law, all digging projects require a call to 811.
Both property owners and contractors must maintain and respect the marks. Always hand dig within 2 feet of marked lines, or the area known as the Tolerance Zone, to find the existing facility.
Various colors are used when marking lines; to learn what each color represents, visit https://www.nj1-call.org/resources/faqs/#color.
What to do if you smell gas:
Leave the building as quickly as possible and move 350 feet away from the structure. Take all others with you. If you smell gas outside, move well away from where you suspect the gas is leaking.
Call 911 immediately and call PSE&G at 1-800-880-PSEG (7734). (Do NOT call from inside the building. Wait until you are outside and a safe distance to call.)
Learn more about carbon monoxide poisoning:
More information about 811 are available at nj1-call.org or on the PSE&G website: pseg.com/safedigging. #Call811 #CallBeforeYouDig #PSEGSafety


PSE&G
Public Service Electric & Gas Co. is New Jersey's oldest and largest gas and electric delivery public utility, as well as one of the nation's largest utilities. PSE&G is the 2022 Edison Award recipient from the Edison Electric Institute. PSE&G has won the ReliabilityOne® Award for superior electric system reliability in the Mid-Atlantic region for 21 consecutive years. For the second consecutive year, PSE&G is the recipient of the ENERGY STAR Partner of the Year award in the Energy Efficiency Program Delivery category. In addition, J.D. Power named PSE&G number one in customer satisfaction for both Residential Electric and Natural Gas Service in the East among Large Utilities.