PSE&G, City of Plainfield First Responders Conduct Gas Emergency Response Exercise
Call 811 before you dig to prevent gas emergencies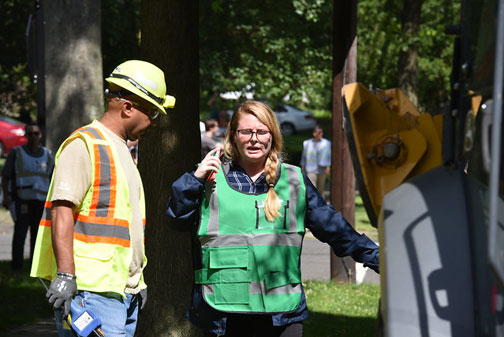 (PLAINFIELD, N.J. – June 24, 2019) Public Service Electric and Gas Co. (PSE&G) is committed to maintaining a safe gas distribution system. As part of our commitment, the utility today partnered with first responders from Plainfield in a safety exercise that simulated a gas emergency.

The four-hour exercise allowed PSE&G and local safety professionals from across Union County to practice keeping the public safe in the event of a damaged underground gas line. The exercise, near the Frederic W. Cook Elementary School in Plainfield, also provided the opportunity to test sheltering plans should a local evacuation be necessary.

"We understand that our community members want to feel safe in their homes, want to know what to do if a gas leak should happen and need a quick and thorough response should an emergency occur," said Joe Martillotti, PSE&G's senior director, gas field operations. "PSE&G's concern for our community and our commitment to safety is why we train, drill and educate year-round."

Martillotti continued, "PSE&G regularly performs simulated gas leak exercises to test and enhance communication protocols and logistics. We're pleased to conduct our first full-scale drill this year in Plainfield with many other Union County emergency responders observing. Conducting these exercises enables us to prepare for worst case scenarios and learn from each other -- ensuring a coordinated response when it is not an exercise."

Plainfield Mayor Adrian O. Mapp said the safety of all Plainfield residents is a top priority of his administration, and coordinating multiagency efforts is crucial for effective response during emergencies.

"We cannot afford to be reactive in critical situations such as these; proactive planning is absolutely the best way to be prepared," Mapp said. "I commend PSE&G for taking steps to ensure that our first responders and community are aware of the potential dangers, and are trained on how to handle a potential crisis."

In 2018, PSE&G responded to more than 850 excavating damages to underground gas pipes. The utility responds to 99.9 percent of these calls within one hour. Many of these leaks are avoidable with a simple call to 811 to request a mark out of underground pipes and cables before digging. Digging without knowledge of the location of underground utilities can result in serious injuries, service disruptions and costly repairs.

"In emergency disaster services, failing to plan is planning to fail," said Michael Clayton, emergency disaster services director for The Salvation Army.

Protocols for responding to a gas leak are different from responding to a fire. For example, the evacuation distance is further for a gas emergency, turning off power may not be possible, and automatic generators or solar panels can be potential sources of ignition.

During today's drill, separate from testing key aspects of a timely and effective response to a gas leak emergency, Plainfield emergency officials also tested their sheltering plans. Other emergency responders from Union County also utilized the drill as a learning opportunity. Participants and observers included: PSE&G, City of Plainfield, Union County, Townships of Scotch Plains and Springfield, The Salvation Army, American Red Cross, New Jersey Board of Public Utilities, three local nursing homes and four senior housing complexes.

Earlier this year, PSE&G conducted gas safety awareness and training sessions in Plainfield for hundreds of elementary school students and for firefighters. PSE&G conducted seminars at Jefferson Elementary School and Plainfield Fire Department in March, and the Cedarbrook K-8 Center in April. Today's drill was the first of three planned full-scale gas safety exercises in 2019, while two tabletop drills took place and one tabletop is pending. The safety exercises and training are part of continual efforts to educate community members in PSE&G's service area about emergency preparedness. June is National Safety Month and safety is one of PSE&G's core commitments.

Prevention is key:
Contractors, excavators and customers should always call 811 to request that utility lines be located and marked before digging, to avoid hitting underground pipelines, conduits, wires and cables. This service is free, and critical to avoid injuries and disruptions to vital utility services. If there is excavation work occurring on your property, customers should always make sure that a contractor has called 811 before starting work. Every digging project, even a small project like planting a tree or building a deck with hand tools, requires a call to 811.

What to do if you smell gas:
Quickly open windows and doors to ventilate the building.
Leave the building as quickly as possible and move well away from the structure. Take all others with you. If you smell gas outside, move well away from where you suspect the gas is leaking.
Call PSE&G immediately at 1-800-880-PSEG (7734) and call 911.

PSE&G
Public Service Electric and Gas Co. (PSE&G) is New Jersey's oldest and largest gas and electric delivery public utility, serving nearly three-quarters of the state's population. PSE&G is the winner of the ReliabilityOne Award for superior electric system reliability as well as the 2018 Outstanding Customer Reliability Experience Award. PSE&G is a subsidiary of Public Service Enterprise Group Inc. (PSEG) (NYSE:PEG), a diversified energy company. PSEG has been named to the Dow Jones Sustainability Index for North America for 11 consecutive years.