PSE&G Storm Update — Monday, February 1, 2021, 4:30 PM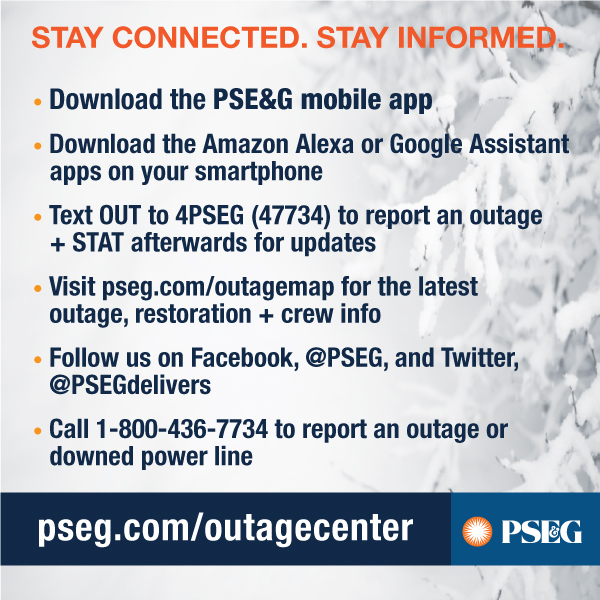 Update:
Heavy snow and strong wind gusts continue in New Jersey causing downed trees, branches and wires, particularly in areas north of Interstate 95.
PSE&G is reporting X,XXX of its approximately 2.3 million customers are currently without service.
As of 1:15 p.m., PSE&G has restored power to nearly 700 customers.
Electric service crews are working to restore outages safely and as quickly as possible, and will continue to work throughout the night.
More than 800 line workers, tree trimmers, surveyors and other utility personnel are dedicated to the restoration effort. PSE&G has secured 68 additional line personnel from out-of-state to assist with power restoration.
PSE&G reminds customers that its crews are unable to work in bucket trucks to make repairs in high winds.
Crews are working to assess damage and make repairs. As we learn more about the extent of the damage, restoration times will be adjusted.
In response to the COVID-19 outbreak, we have adapted our storm and safety procedures to follow public health guidelines and industry best practices. We thank our customers for their patience as we operate under these unusual circumstances to safely restore power as quickly as possible.
Customer Safety:
Downed wires should always be considered "live." Stay at least 30 feet away from downed lines and immediately call PSE&G at 1-800-436-PSEG (7734) or 911 to report downed wires.
Electric current passes easily through water, so stay away from downed lines and electrical wires. Don't drive over – and don't stand near – downed wires.
Downed lines will be hard to see in the rain and can potentially be hidden in standing water. If you encounter large pools of standing water, stop, back up and choose another path.
To prevent carbon monoxide poisoning, do not run any gasoline-powered generators in a garage or any other enclosed space.
If you are on life-sustaining medical equipment, ensure that you alert PSE&G in advance and notify your local police and fire departments. For more information, visit www.pseg.com/life.
If you experience "no heat" or are having trouble with your heating appliance, please make an appointment by calling 1-800-350-PSEG (7734) or schedule online at nj.myaccount.pseg.com.
Stay connected with PSE&G:
###
PSE&G
Public Service Electric and Gas Co. (PSE&G) is New Jersey's oldest and largest gas and electric delivery public utility, serving three-quarters of the state's population. PSE&G is the winner of the ReliabilityOne Award for superior electric system reliability. PSE&G is a subsidiary of Public Service Enterprise Group Inc. (PSEG) (NYSE:PEG), a diversified energy company. PSEG has been named to the Dow Jones Sustainability Index for North America for 12 consecutive years.